There's something about mini versions that are so irresistible! Mini Irish Soda Breads are an adorable version of my Irish Soda Bread recipe. And if you've never made a soda bread before you're going to love how easy they are to make! No yeast, and no letting rise…just mix, form your loaf, and bake!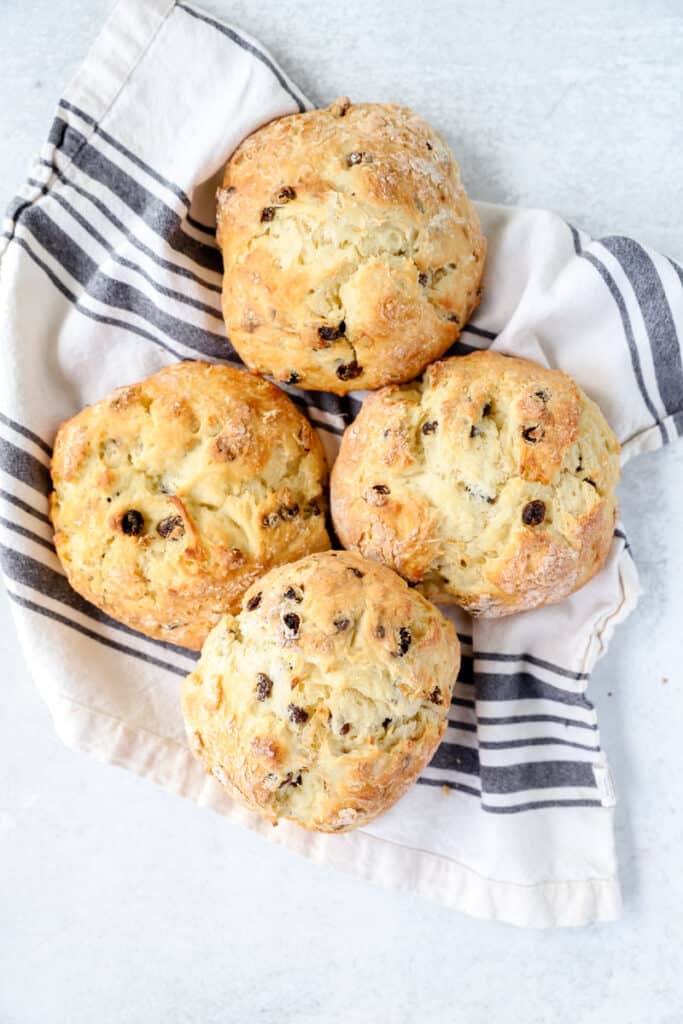 WHAT IS A SODA BREAD?
If you've made a soda bread before then you know the answer to this question. But, if this is your first recipe like this I'll fill you in! Soda bread gets it's name because baking soda is the leavening ingredient. No active yeast, and no need to set aside time to let the bread rise. Just let the baking soda to the work while it bakes.
I'll be honest, growing up I thought it was because the bread dough was made with soda or seltzer water. What kid doesn't want to eat bread with soda?! You can imagine how disappointed I was when I learned there was no bubbly drinking soda in the recipe. But now my adult self loves the easy simplicity of a soda bread recipe! So easy even non-bakers can master this and make a delicious beautiful bread.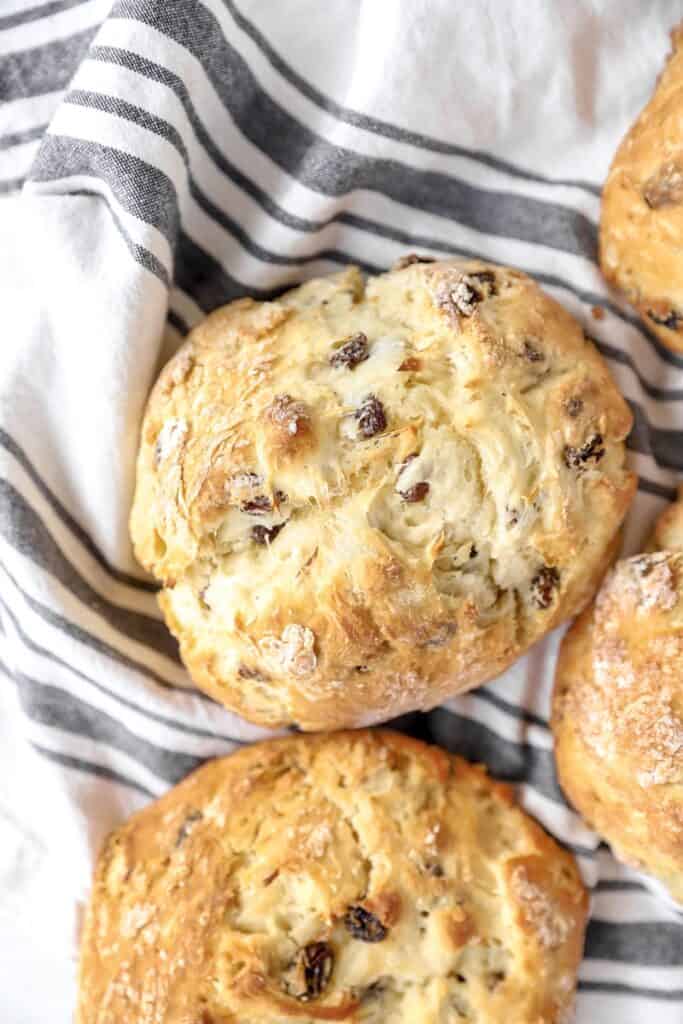 WHAT YOU NEED TO MAKE MINI LOAVES
Here's what you'll need to make these mini soda breads!
INGREDIENTS
4 cups flour
4 tablespoons sugar
1 teaspoon baking soda
1 3/4 teaspoon salt
4 tablespoons cold butter, cut into 1/2 inch pieces
1 3/4 cups cold buttermilk, shaken
1 large egg, lightly beaten
1 cup raisins
KITCHEN TOOLS
The only unique kitchen tool I really think you need that will help with this recipe is a pastry cutter, like this one below.
A pastry cutter will help you work the butter into the flour and get the butter more evenly dispersed throughout the dough. You can find a pastry cutter like this on Amazon!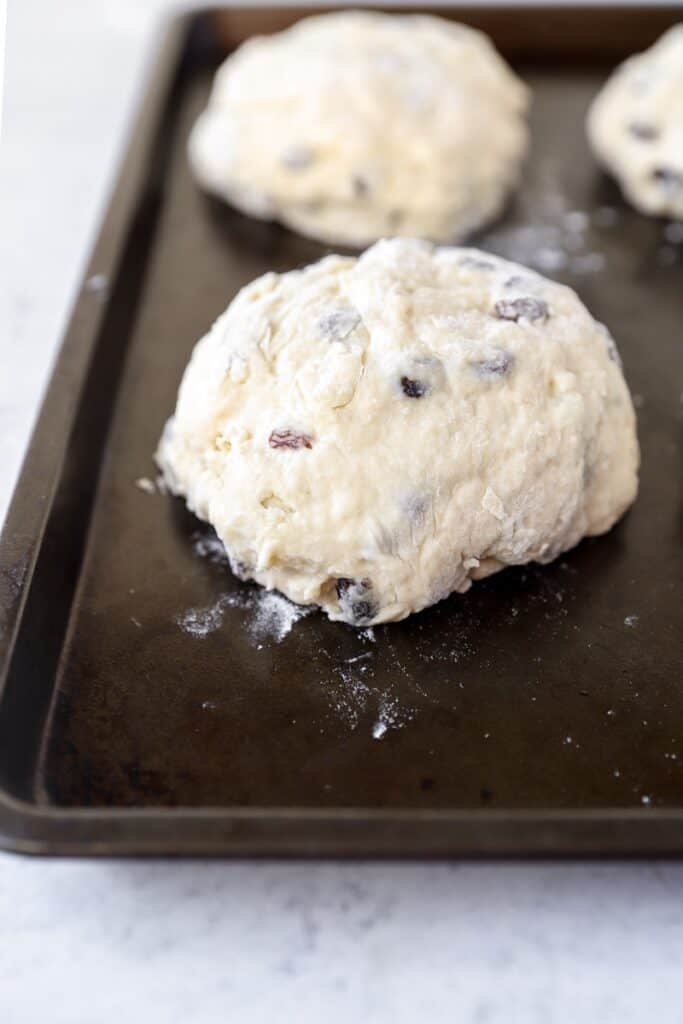 BREAD BAKING TIPS
Don't worry about getting a perfectly smooth loaf. These breads are ideal to look rustic! Those grooves and ridges make a beautiful presentation.
Cutting the "X" in the top helps give it that rustic look, and will allow the top of the loaf to have lots of texture.
After you place the dough on your floured surface if there's any excess dough mixture in the bowl you can just work it back into the dough as you knead.
This isn't a sweet bread, but if you want it sweet you can add a bit more white sugar.
Pop a slice in the microwave and warm it up before adding the butter, tastes amazing a little warm!
Don't substitute the buttermilk, you really need to use real buttermilk here…so make sure you add it to your grocery list!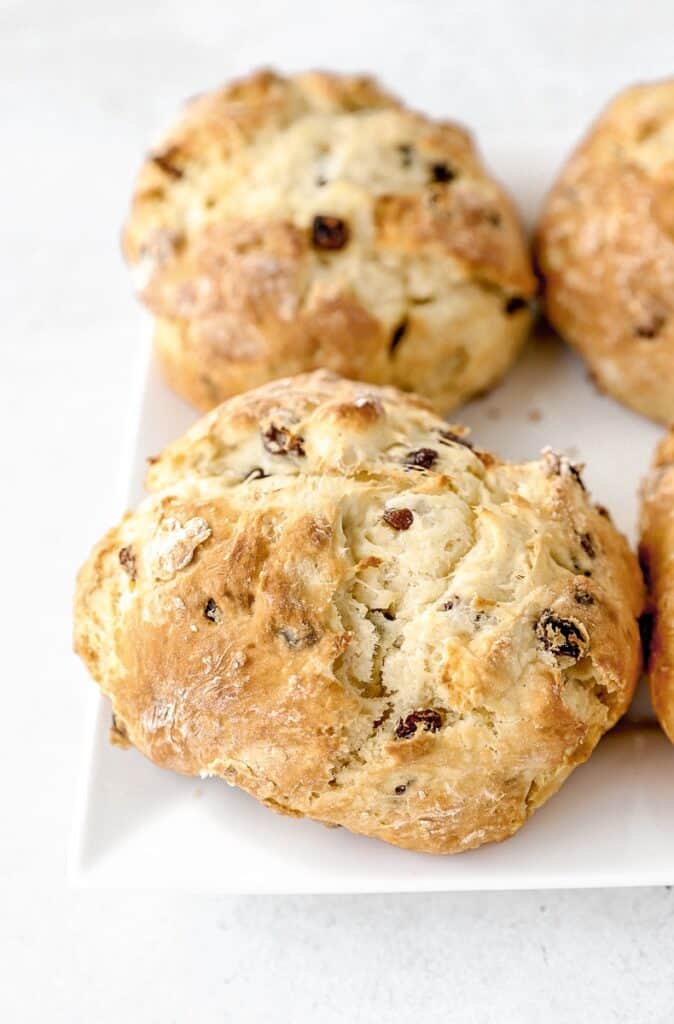 Want more soda bread recipes? I've got two more you might want to check out!
Classic Irish Soda Bread
Orange and Cranberry Soda Bread
Cinnamon Raisin Soda Bread
Blueberry Soda Bread
Scones are one of my favorite things to bake, they're so easy!
Copycat Panera Orange Scones
Lemon Blueberry Scones
Raspberry Scones with White Chocolate Drizzle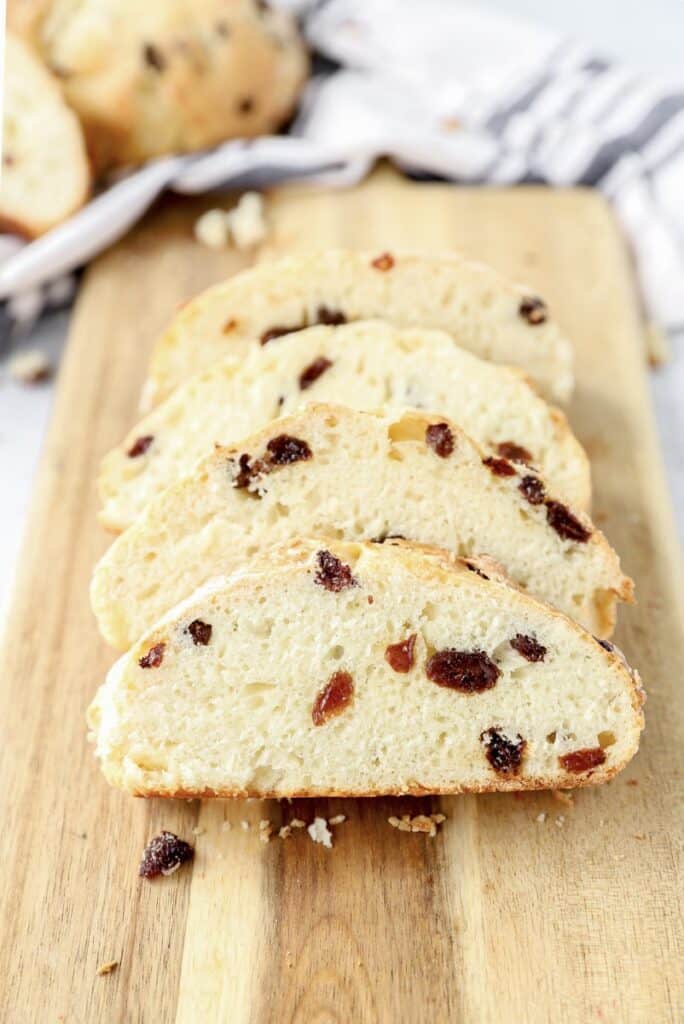 Print
Mini Irish Soda Bread
Mini Irish Soda Breads are an adorable version of Irish Soda Bread! An easy no yeast bread recipe with baking soda as the leavening ingredient. Make 4 individual mini loaves perfect for families or parties!
Author:
Prep Time:

15 minutes

Cook Time:

30 minutes

Total Time:

45 minutes

Yield:

4 mini loaves

Category:

Baking

Method:

Baking
4 cups all purpose flour
4 tablespoons white sugar
1 teaspoon baking soda
1 and 1/2 teaspoons salt
4 tablespoons cold butter, cut into 1/2 inch pieces
1 and 3/4 cups cold buttermilk, shaken
1 large egg, lightly beaten
1 cup raisins mixed with 1 tablespoon flour
Instructions
1. Heat oven to 375. Lightly spray your baking sheet with cooking spray.
2. Combine the flour, sugar, baking soda, and salt. Add the butter and use a pastry cutter or fork to mix into the dry ingredients.
3. Lightly beat the egg into the buttermilk and pour into flour mixture and gently stir to begin incorporating everything together. Pour in the raisins, and stir to combine into the dough.
4. Flour your counter-top and your hands. Dump the dough on the flour and lightly knead a few times until you get a round loaf. It will be very sticky at first so make sure you have enough flour so it doesn't stick to your hands.
5. Divide the large loaf into 4 equal portions to create your 4 mini loaves. Place the loaf onto a large baking sheet and cut an 'X' into the top of each loaf with a serrated knife. Bake for 28 – 30 minutes, until the loaves are browned on the top and a knife comes out clean.
Keywords: mini Irish soda bread