Grinder Salad is a light and fresh side salad made with all the flavors and ingredients of a grinder! A delicious side dish to chicken, burgers, steaks and more! Whip this up in about 20 minutes and you're ready to eat. Whether you call the sandwich a grinder, hoagie, or a sub this salad version will be a new favorite.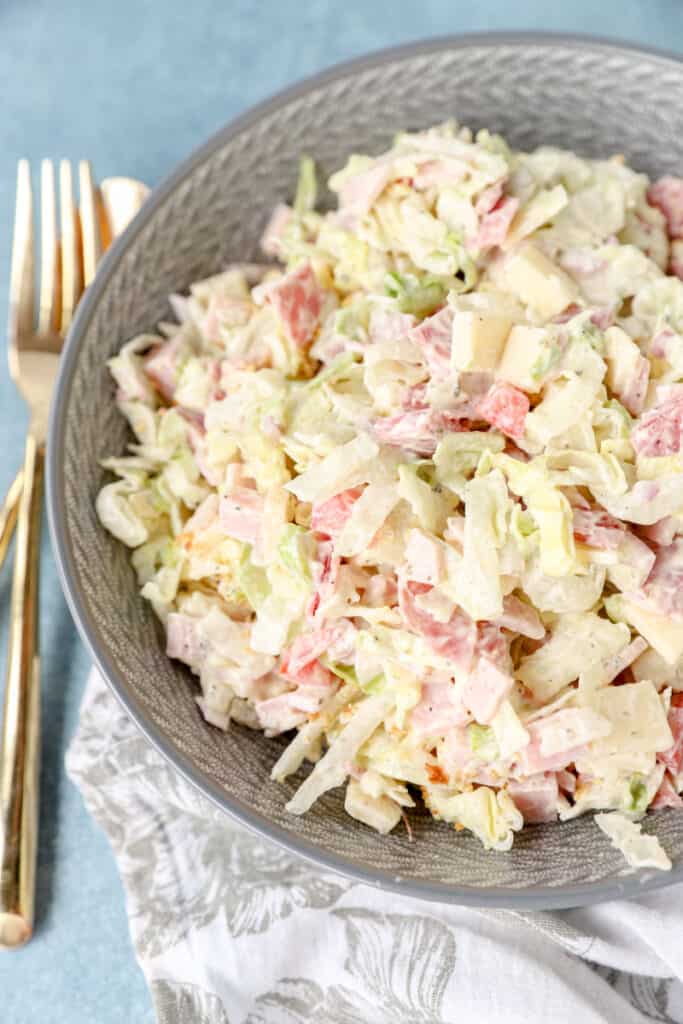 Maybe you've seen the viral TikTok recipe of the grinder salad sandwich. Well this recipe is a different spin taking all the elements of that tasty sandwich and making a fun side dish! The best way I can describe this is like a loaded pasta salad met up with coleslaw and they combined and kicked the noodles out. It's really like a loaded slaw!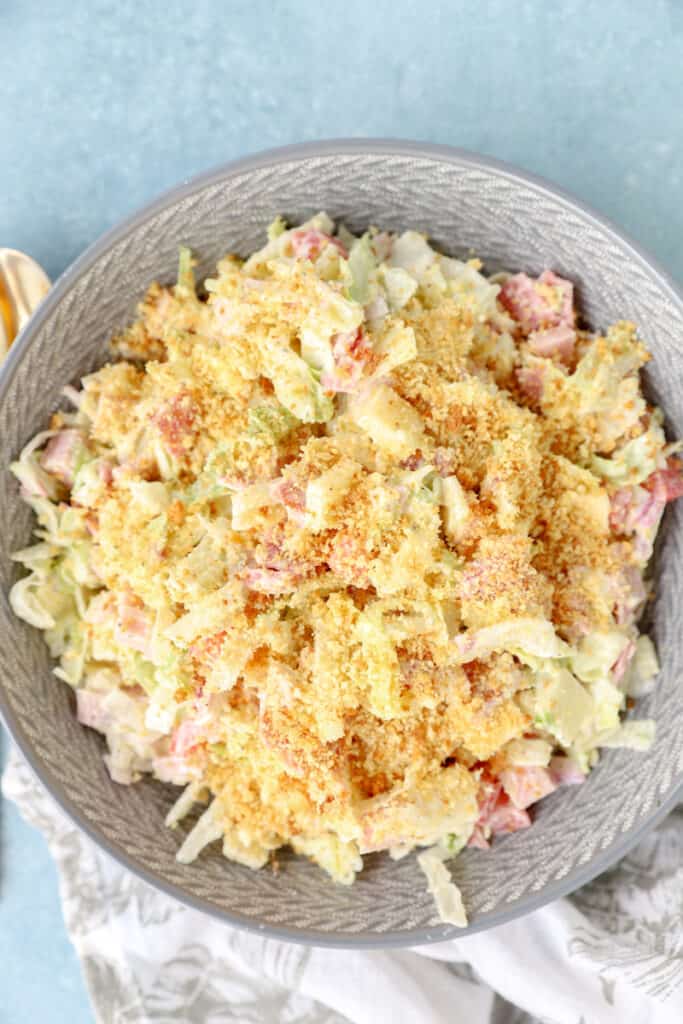 INGREDIENTS
Here's the thing, you can use whatever commination is your favorite or whatever you normally use on your sandwich! I really liked these flavor pairings below for this recipe!
For the salad
Chopped Iceberg lettuce, you can chop it yourself but I love how easy it is to use this shredded lettuce.
Salami
Canadian bacon or thick cut ham
Swiss cheese
Red onions
Roma tomatoes
For the dressing
Then you'll make a dressing to bring this whole salad together! For the dressing the ingredients you'll use are:
Mayo
Red wine vinegar
Pickle juice, you can buy these little pickle packets since we're only using a little juice here!
Pepper
Garlic powder
Italian seasoning
For the Panko topping
Lastly, let's talk about the toasted Panko topping. It really adds a nice finishing crunch to the dish and adds welcomed texture. Here's what you need:
Panko breadcrumbs
Cooking spray
Garlic powder and salt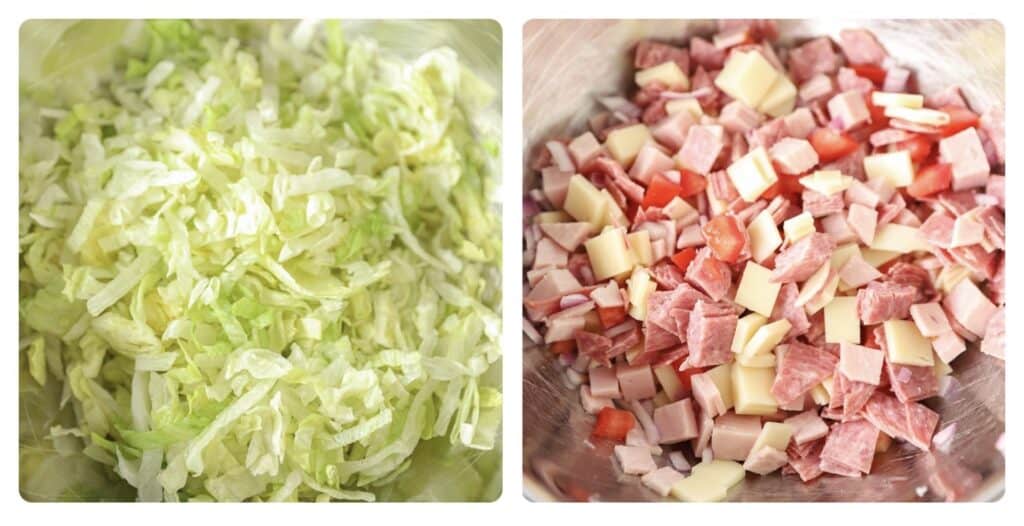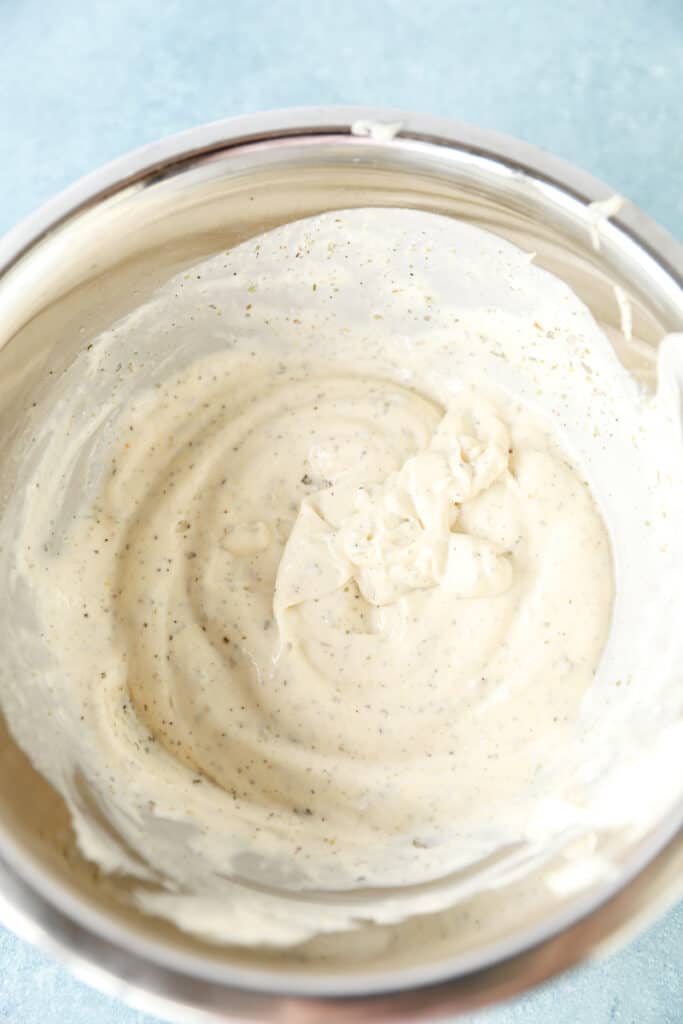 Once you've got everything sliced, diced, and mixed it's as easy as throwing everything together in one big bowl and stirring to combine.
You might notice there's no additional salt in the dressing. I found that the sodium in the pickle juice and the saltiness of the salami and ham give this enough added salt. When I tested the dressing the first time I added some salt and WHOA…too much. So skip it and just taste at the end and salt as needed!
This is also best served right away after you combine everything together. Letting it sit too long or storing this in the fridge is going to lead to a soggy salad. No thanks. So if you're serving this at a party or bringing it to a party, just keep the lettuce in one bowl, the dressing in another, and the chopped fixings in another bowl. Right before you're ready to eat just mix everything together then top with the Panko so you have a super fresh and super crisp grinder salad.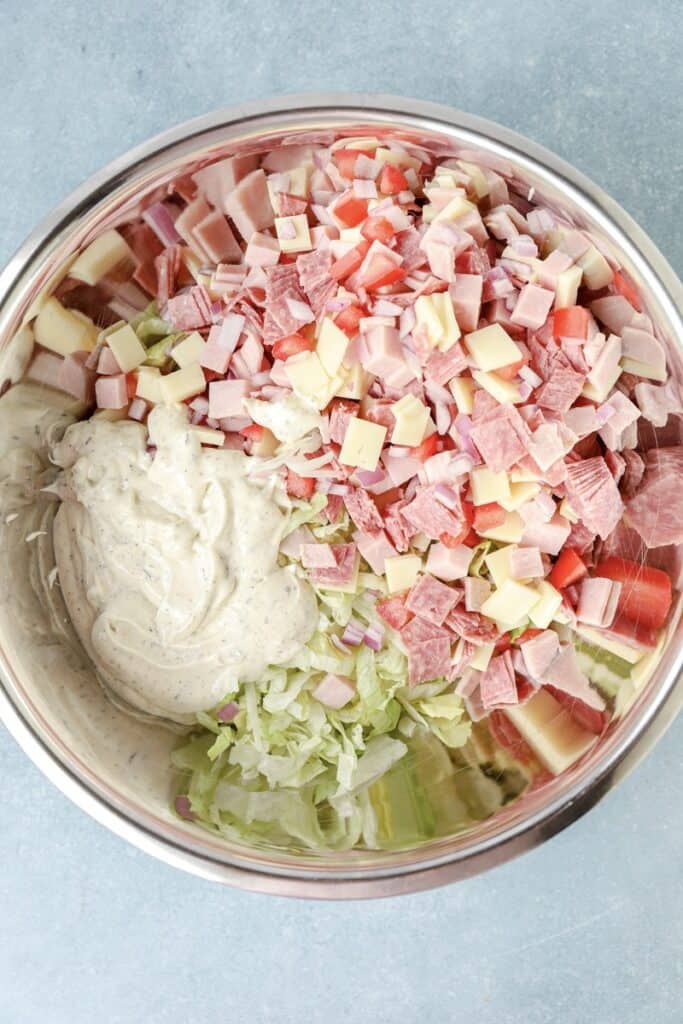 WHAT TO SERVE WITH A GRINDER SALAD
I think this could be the salad of the summer and pairs well with so many dishes because the flavors won't overpower a main dish. Here's a few ideas on what to serve with this!
Beef burgers or chicken burgers
Steaks
Kabobs
Grilled chicken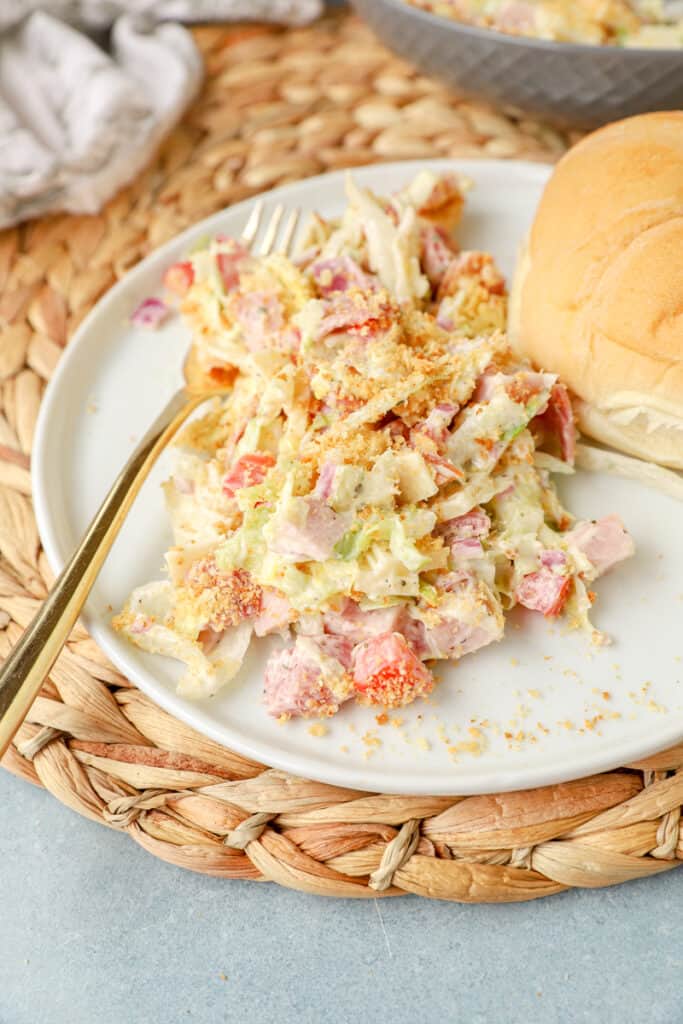 Want more side dishes? Check out a few more of my favorites here on the blog!
Taco pasta salad
Mexican corn pasta salad
French dressing pasta salad
Buffalo chicken pasta salad
Print
Grinder Salad
All the ingredients you love in a grinder in a perfect side salad! Loaded with your favorite deli meats and cheeses combined in a seasoned mayo dressing.
Author:
Prep Time:

20 minutes

Total Time:

20 minutes

Yield:

4-6 servings

Category:

Side Dishes

Method:

Mix

Cuisine:

American
4 cups shredded Iceberg lettuce
1 cup diced Canadian ham (you'll use a full 6oz package)
1 cup diced Swiss cheese
3/4 cup diced salami
1/2 cup diced Roma tomatoes
1/3 cup diced red onion
3/4 cup Panko breadcrumbs
Cooking spray
For the Dressing
3/4 cup mayo
1 tablespoon red wine vinegar
1 tablespoon pickle juice
1 teaspoon Italian seasoning
1/2 teaspoons garlic powder
1/2 teaspoon pepper
Instructions
1. Preheat your oven to 400 degrees. Line a baking sheet with foil and add the Panko. Carefully spray the Panko with the cooking spray, sprinkle with a bit of garlic powder and a dash of salt. Bake for 3 minutes, carefully stir, then bake for 1 more minute. Remove from the oven and add to a bowl and set aside until you've prepared the rest of the salad.
2. In a small bowl combine all of the ingredients for the dressing then set aside.
3. In a large bowl add the chopped lettuce. Add in the diced salami, Canadian bacon, cheese, red onions, and tomatoes. Pour in the dressing and stir until everything is well incorporated and covered in the dressing.
4. Top the grinder salad with as much of the toasted Panko as you'd like and serve! There will be enough Panko to sprinkle over the top, then for everyone to add to their individual serving.
This is best served right away so it doesn't get soggy. If you're serving this at a party just keep everything in separate bowls and combine them right before you're ready to eat!
Notes
You might notice there's no additional salt in the dressing. I found that the sodium in the pickle juice and the saltiness of the salami and ham give this enough added salt flavor.