A delicious twist on vodka sauce, this spicy rigatoni vodka recipe is made with crushed red peppers to add a nice kick of heat! This sauce loaded is simple to make, and just a few changes from my recipe for creamy vodka sauce!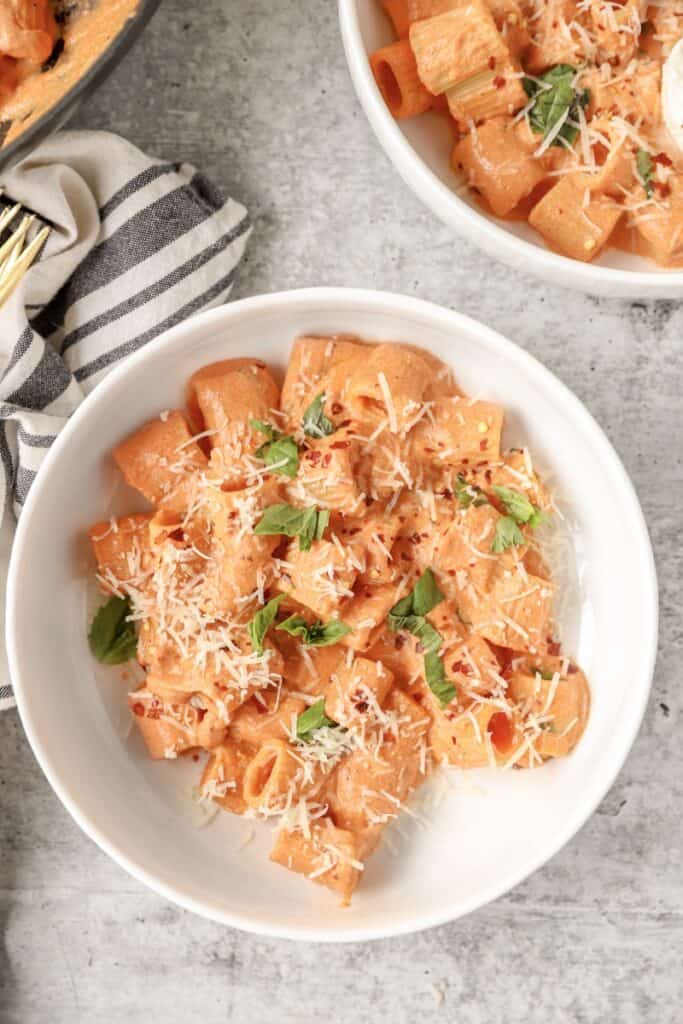 I served this over Mezzi Rigatoni, one of my go-to pasta shapes, but you can truly serve this over any noodle you like! I think this would also be a delicious velvety sauce for linguini, thin spaghetti, or penne. But in my opinion if you want a short but sturdy short noodle perfect for heavier sauces the mezzi rigatoni is the way to go!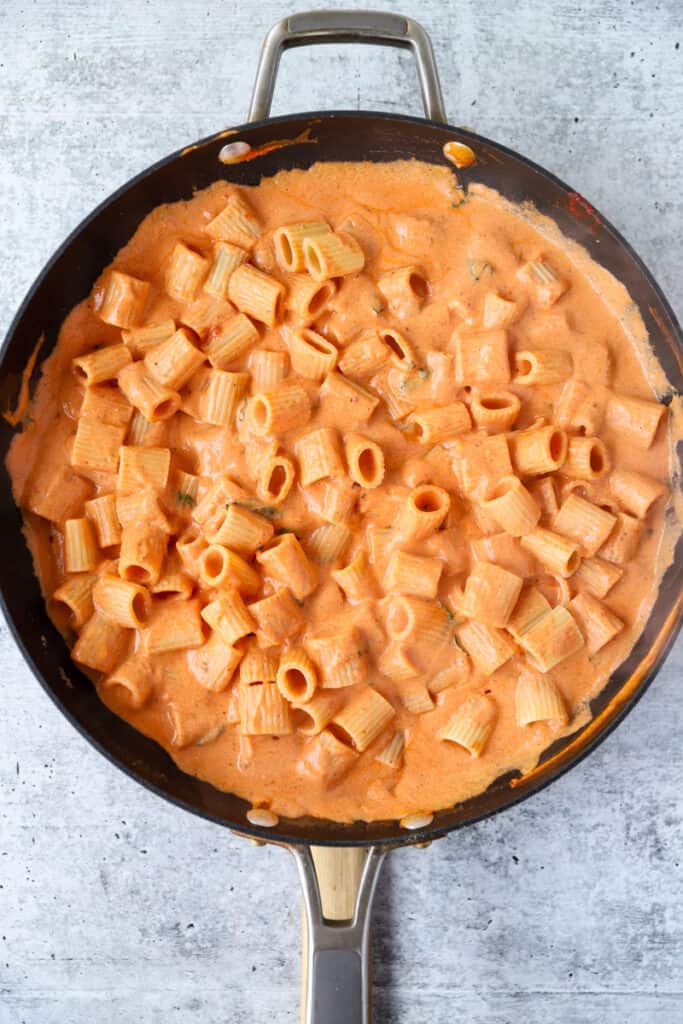 How spicy is the sauce
Ok let's see how I can give this an accurate spice rating. On a scale of 1 to 5 with 5 being "mouth-on-fire-spicy" and a 1 being "this is so mild I'm not sure there is spice in this dish" I'd say this is a "3". For me a "3" means you can definitely tell there's some sort of hot pepper going on! You get that warm heat on the back end of the bite where you get that gradual intensifying of the spice that lingers in your mouth for a bit. While you sense the heat, it's not so spicy where it's taking over every other flavor and making you reach for the tissues to dry your watering eyes!
For this sauce I used 1 teaspoon of crushed red pepper flakes. If you want it even spicier, just garnish with a few extra generous shakes of the pepper flakes! The creamy Burrata helps cool the bite and is the perfect pairing to the heat.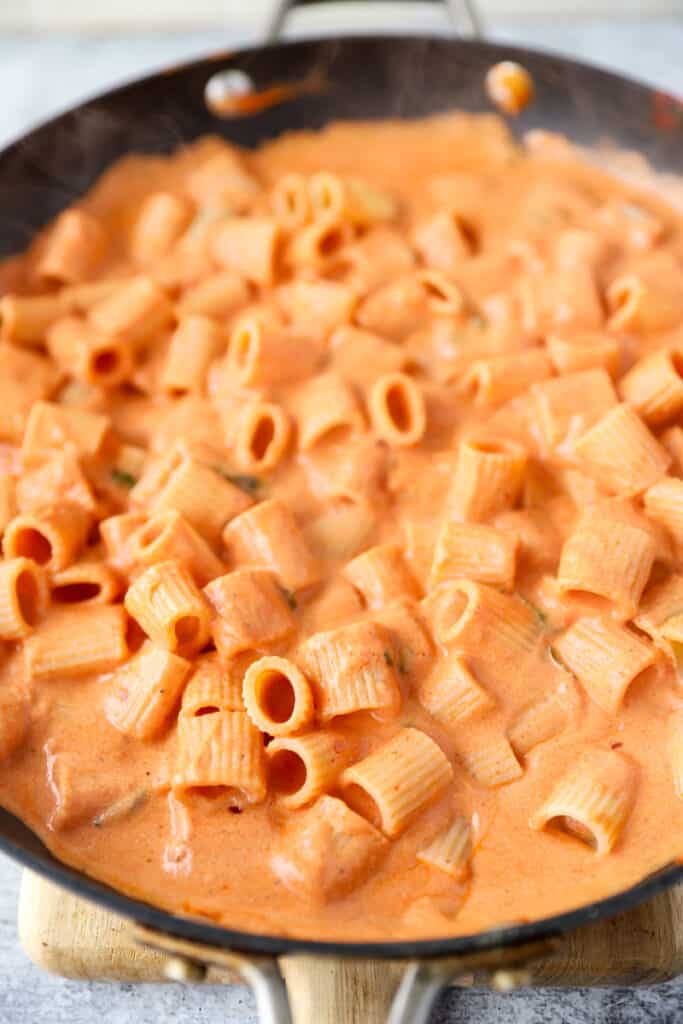 What does vodka do in tomato sauce
If you've never had a vodka sauce before, or maybe even if you had, you might be wondering what the vodka actually does to the sauce. No, we're not making boozy pasta here, and there's no added alcohol flavor like you get when you add wine to a sauce. What the vodka actually does is work as a companion to the tomato paste.
By adding the vodka it helps to enhance the tomato flavor and make it more robust and prominent. That's what makes vodka sauce extra special and not just a typical tomato cream sauce!
You don't need a lot of vodka to do the trick, just a 1/4 cup which is the size of one of those mini bottles. So you don't need to buy a huge bottle, just a little mini bottle is all you need!
Sauce making tips
I want you to love this sauce as much as I do, so here are some cooking tips to help you along the way!
Add the tomato paste to the pan before any other liquids. By cooking the tomato paste a bit first directly in the pan it will help enhance the tomato flavors more.
You only need 1/4 cup of vodka here, which equates to the size of a little mini bottle! So if you don't want a big old bottle of vodka sitting around, just grab a mini bottle. But, if you do find yourself with some leftover vodka try making my Limoncello Vodka!
Always reserve some of the cooked pasta water to thin out the sauce! Use pasta water instead of more cream. If you add more cream to make a saucer thinner you're most likely going to make the sauce way too heavy. In this recipe I use about 1 cup of the pasta water.
As mentioned above, using 1 teaspoon of the crushed red pepper will make this what I think is "medium" spice level. Want it a little more mild? Just scale it baked to 3/4 teaspoon.
Got leftovers? Just save them in the fridge in an air tight container for up to 3 days. Serve the reheated leftovers with more Burrata and garnish with extra Parmesan cheese and basil.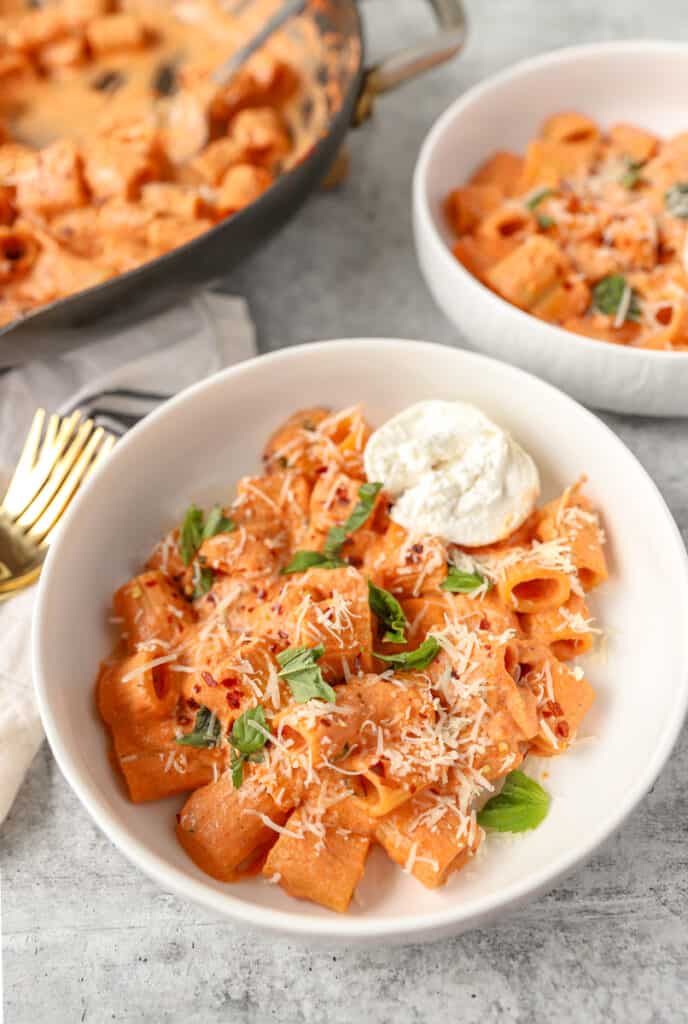 Want more vodka sauce dishes? Check out more of my favorites!
Vodka Sauce Pizza
Rigatoni Vodka and Prosciutto
Baked Penna Vodka
And more of my all-time most popular pasta dishes here on the blog!
Creamy Sun-dried Tomato Pasta
Alfredo Tomato Sauce
Marsala Cream Sauce Pasta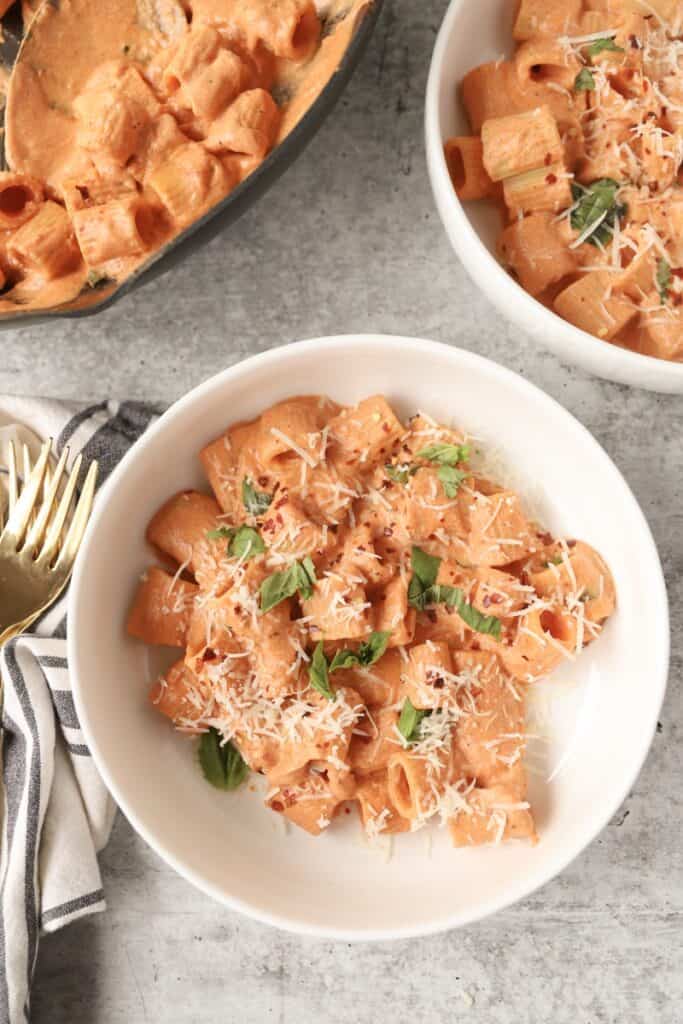 Print
Spicy Rigatoni Vodka
Love vodka sauce? Try this delicious spin with a spicy vodka pasta! Crushed red pepper adding to the vodka tomato sauce then served with fresh basil and Burrata.
Author:
Prep Time:

15 minutes

Cook Time:

20 minutes

Total Time:

35 minutes

Yield:

4-6 servings

Category:

Main Dish

Method:

Saute

Cuisine:

American Italian
3 cups mezzi rigatoni pasta, dry
3 garlic cloves, grated
2 tablespoons salted butter
2 tablespoons all purpose flour
2 cups light cream
6oz can tomato paste
1 teaspoon crushed red pepper flakes
1/4 cup vodka (this is just the size of a mini bottle)
1 tablespoon fresh chopped basil, plus more for garnishing your plate
2 tablespoons grated Parmesan cheese
3/4 teaspoon salt
1/2 teaspoon garlic powder
1/4 teaspoon black pepper
1 and 1/2 cups of reserved pasta water (you might not need all of it though!)
Instructions
1. Bring a large pot of salted water to boil. Cook the 3 cups of pasta according to box directions. As the pasta is cooking, carefully reserve the pasta water into a heat safe bowl.
2. While the pasta is cooking, begin making the vodka sauce. In a medium pan over medium heat melt the butter and the crushed red pepper flakes. Cook for about 1 minute, then add the grated garlic and cook 1 minute more. Add the flour and whisk until combined, cook about 30 seconds.
3. Add the tomato paste and stir to incorporate with the flour…cook another 1 minute.
4. Add the cream and gently whisk to blend into the tomato paste. Then, add the vodka and basil.
5. Bring to light boil, then reduce heat and add the Parmesan cheese, salt, pepper, and garlic powder. Simmer for 8-10 minutes. Add as much of the reserved pasta water as you liked, a little at a time, until you reach the ideal sauce consistency you want. I used about 1 cup of the water.
6. To serve, add the pasta a little at a time to the sauce until you have the consistency you like. Serve into bowls, top with extra chopped basil and Burrata.
Keywords: spicy rigatoni vodka