Jalapeño Popper Chicken is a one-skillet dinner that's filling and comforting. Seasoned boneless chicken thighs baked with a creamy jalapeño corn mixture. What truly makes this like a jalapeño popper is the crunchy panko on top! If you love jalapeño poppers this chicken dish is for you!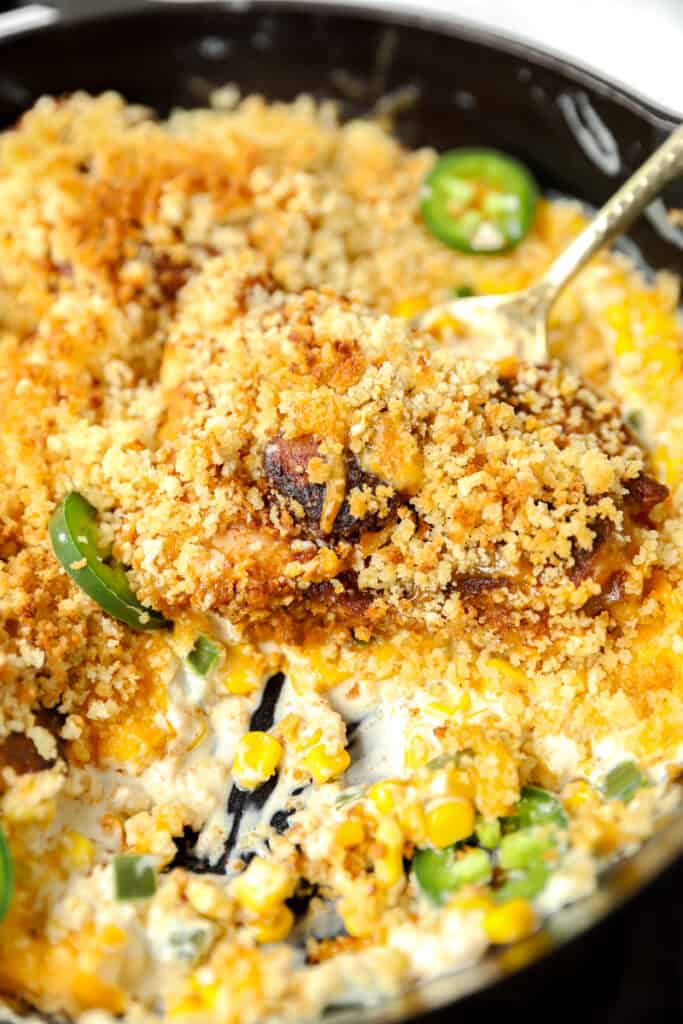 IS THIS SPICY?
Since the jalapeños have their seeds removed, this is not a spicy dish! There's definitely that pepper warmth, and maybe a very mild tingle from the peppers…but's it's definitely not spicy.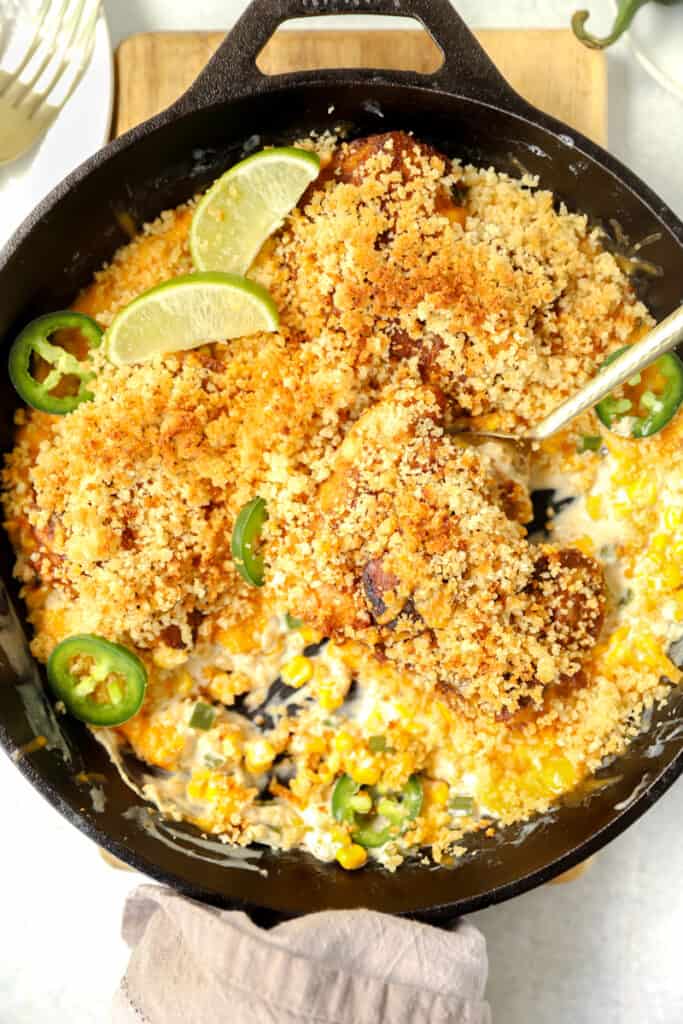 I created this recipe to be a one-skillet dish! Less cleanup, and easy to be able to cook everything up in one skillet and be able to go from stovetop to oven. I used my cast iron skillet, but you could also use an oven-safe skillet as well.
So what if you don't have cast iron or an oven safe skillet and you want to make this tonight? You can still make this, there will just be one extra step. Cook everything up in your pan, then grab a 9×13 dish and line it with foil. Pour in the jalapeño corn mixture, add the chicken thighs, then top with the cheese and panko and bake. So it's technically not "one-skillet" anymore, but you can still enjoy all the popper goodness!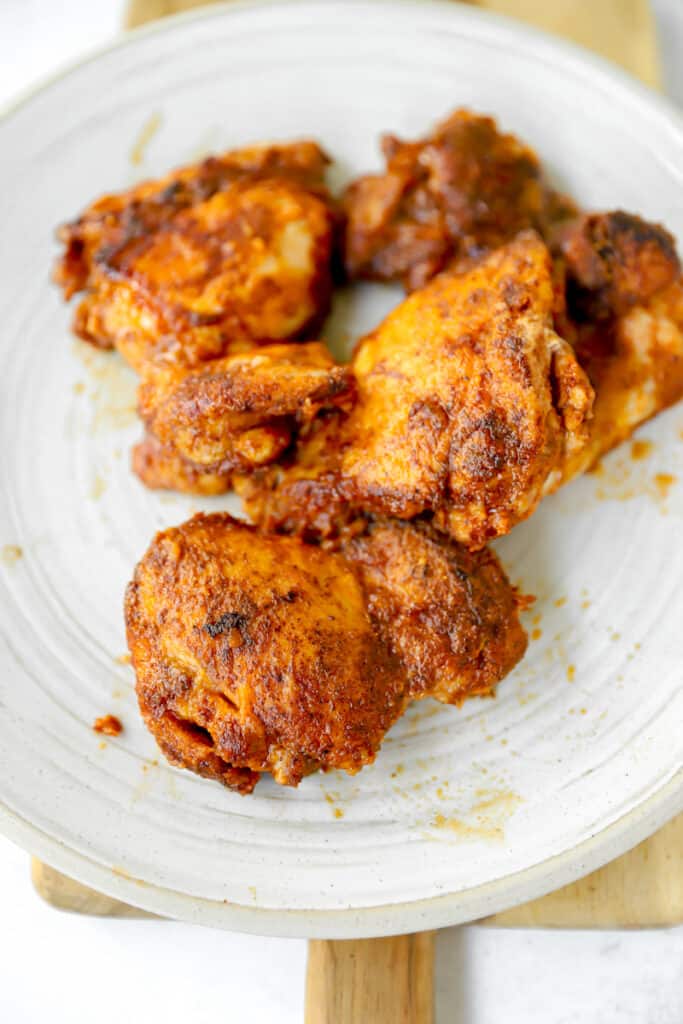 WHAT TO SERVE WITH THE
Jalapeño

CHICKEN

This skillet dinner is already loaded with chicken, corn, peppers, and a creamy sauce so I'd say keep the side dish light! Here are some ideas:
Mashed potatoes
Jasmine rice
Quinoa
I also really love this plant based rice you can find at your grocery store!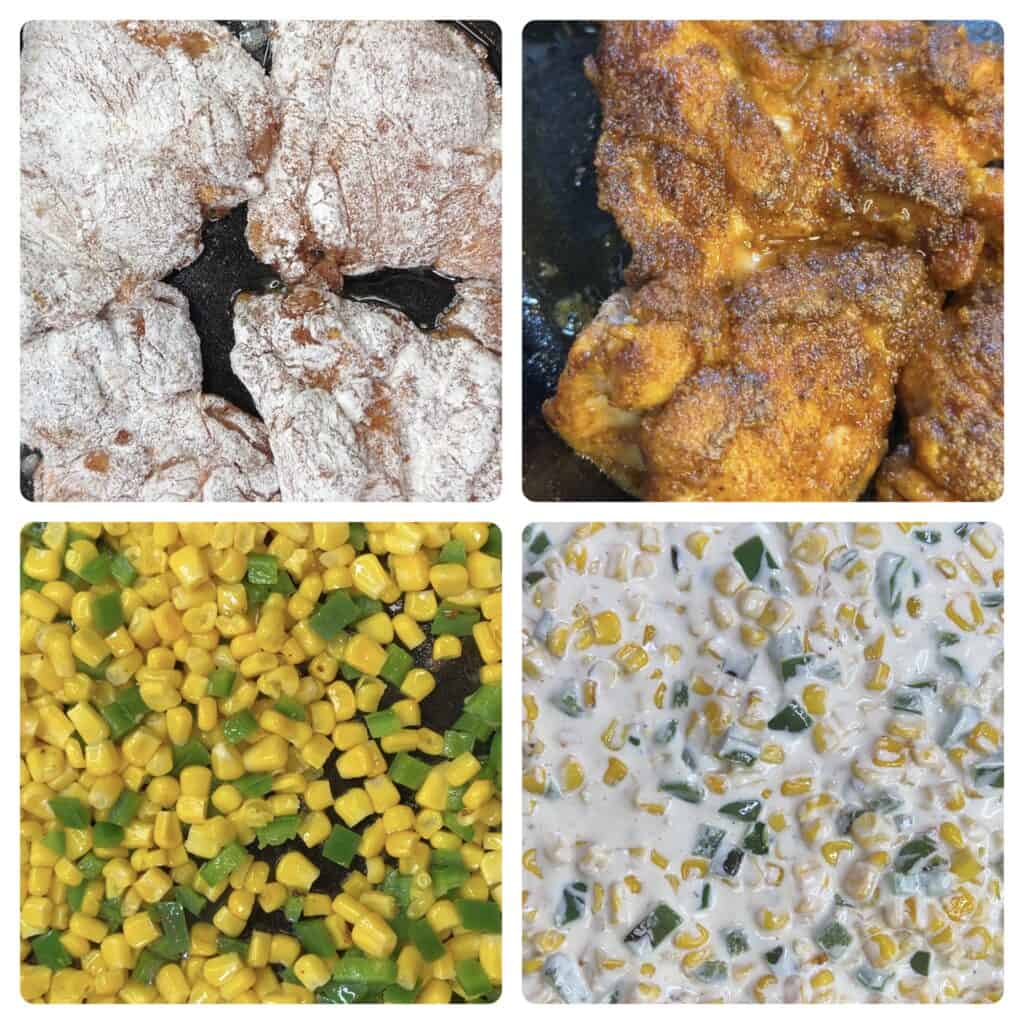 COOKING TIPS
Use boneless chicken thighs. If you only have bone-in on hand, you'll need to cook them a little bit longer in the skillet.
If you don't already have one, get yourself a digital meat thermometer. This will help you make sure you never over cook or under cook the chicken!
If you want to make this spicy, add some cayenne pepper to the seasoning rub or sprinkle some cayenne overtop the panko before broiling.
I use cooked frozen corn, but you could also use drained canned corn, or fresh off the cob corn.
I recommend sticking with fresh jalapeños for this recipe, I haven't tested it with canned jalapeños so can't say for sure how those would taste here.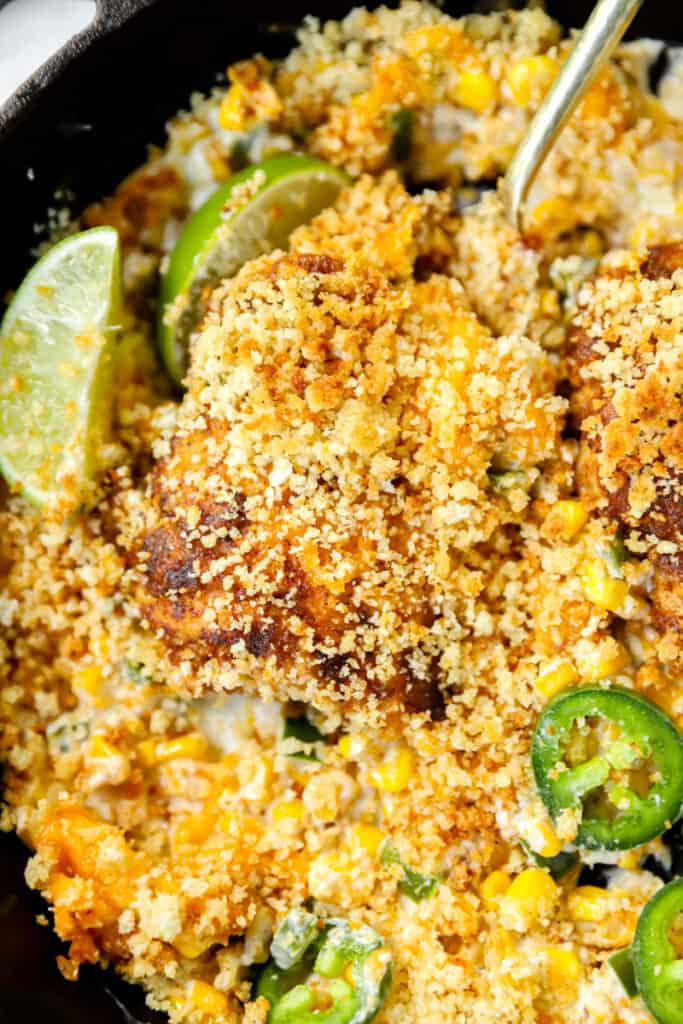 TIPS ON WORKING WITH
Jalapeño

S

Whether you've cooked with jalapeños before or not, here are some helpful tips!
Don't touch your face or your eyes! That pepper burn is real, so make sure you're thoroughly washing your hands, don't touch your face, and even wear gloves if needed.
Wash your cutting board. For this recipe I saved cutting the peppers until last. If you plan on handling the peppers in the middle of the prep you're going to have to clean the knife (or grab a new one) and wash the cutting board. You don't want to accidentally introduce the heat from the seeds.
Avoid washing the interior of the peppers. Having splashing water come into contact with the seeds can make the air a bit spicy and send you into a coughing fit. (ask me how I found this out lol)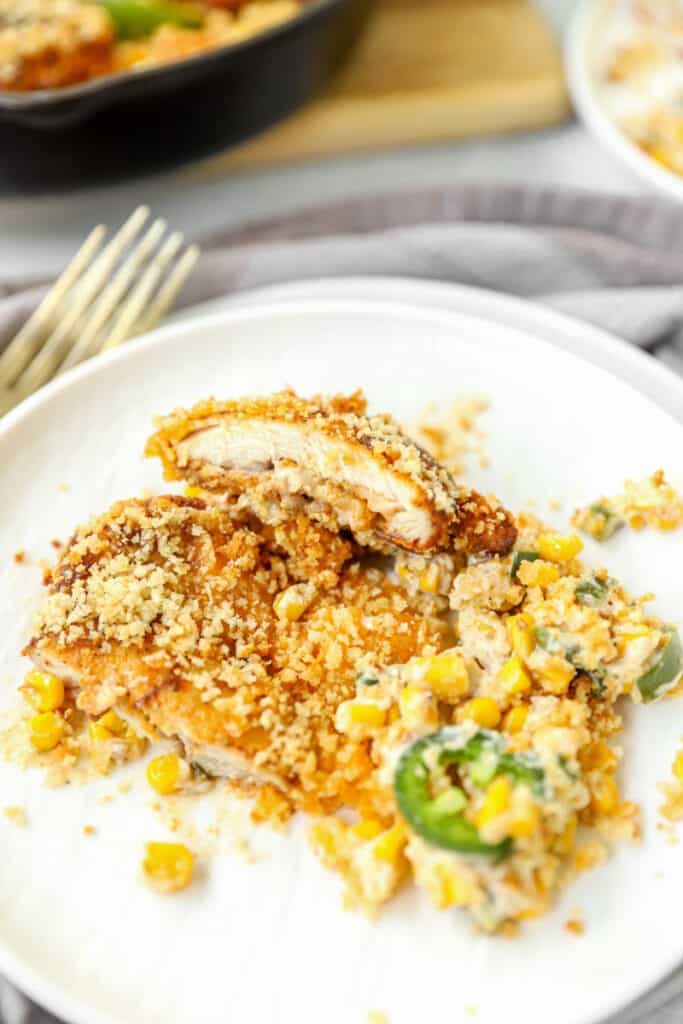 Looking for more recipe inspiration? Here are some others you might like!
Jalapeño Cheddar Scones
Baked BBQ Chicken Thighs
Corn and Red Pepper Quesadillas
Print
Jalapeño Popper Chicken
If you like jalapeño poppers you'll love this jalapeño popper chicken! Seasoned boneless chicken thighs cooked in creamy corn and jalapeño…then topped with panko and cheese! Comforting and so flavorful.
Author:
Prep Time:

15 minutes

Cook Time:

30 minutes

Total Time:

45 minutes

Yield:

4 servings

Category:

Main Dish

Method:

Saute

Cuisine:

American
For the chicken thighs
4 boneless, skinless chicken thighs
2 tablespoons avocado or olive oil
1/3 cup all purpose flour
1 and 1/4 teaspoons chili powder
3/4 teaspoon garlic powder
1/2 teaspoon salt
1/2 teaspoon pepper
1/2 teaspoon cumin
1/2 teaspoon smoked paprika
Lime wedges for garnish
For the jalapeño corn
3 jalapeños, seeds removed and diced (use a 4th jalapeño to slice to garnish the cooked dish)
1 and 1/2 cups cooked corn
1 tablespoon butter
1/4 teaspoon salt
3 ounces cream cheese
1/2 cup light cream
For the panko topping
1 cup panko
3/4 cup shredded sharp Cheddar cheese
3 tablespoons butter, melted 
1/4 teaspoon garlic powder
Salt
Instructions
1. In a bowl combine the chicken seasoning blend: chili powder, garlic powder, cumin, smoked paprika, salt, and pepper. Trim any excess fat from the chicken, then cover them with the seasoning blend and coat each thigh in the flour.
2. In an oven safe skillet or cast iron skillet, heat the oil over medium heat. Add the chicken thighs and cook on one side for 5 minutes, then flip and cook for an additional 7-8 minutes. Use a digital meat thermometer to confirm internal temperature has reached 165 degrees. If this temperature has not been reached, cover the skillet with some foil and continue cooking for an additional minute then recheck temperature. Repeat this step if needed.
3. Remove the cooked chicken and place it on a plate then cover with foil. Carefully wipe out any excess oil from the skillet, then over medium heat add 1 tablespoon of butter. Once melted, add the corn and jalapeños and cook 5-6 minutes, stirring occasionally (looking to get a slight browned char on the corn).
4. While the corn and peppers are cooking, melt the butter for the panko. Pour the melted butter over the panko and season with the 1/4 teaspoon garlic power and a few dashes of salt. Set aside.
5. Next, to the corn and peppers reduce heat to low and add the cream cheese and stir to melt, then pour in the light cream. Turn off the heat and stir until the sauce has slightly thickened, about 1-2 minutes.
6. Place the chicken thighs back into the skillet on top of the jalapeño corn mix. Sprinkle with the Cheddar cheese, then completely cover the top with the panko.
6. Place under the broiler for about 4-5 minutes until everything is browned. Keep a close eye here, broilers can vary and can go from browned to burnt very quick!
Serve with lime wedges and jalapeño slices (seeds removed). Savor every bite!
Notes
See the post for tips on cooking with jalapeños.
Keywords: jalapeño popper chicken