Easy and inspired pasta dishes are the superheroes of dinner time in my house. Making an elevated pasta sauce takes dinner from boring to tasting like gourmet pasta in less than 30 minutes! That's exactly what you'll get with this Pesto Alfredo. Alfredo sauce with pesto is a delicious spin on the white Alfredo sauce we're used to.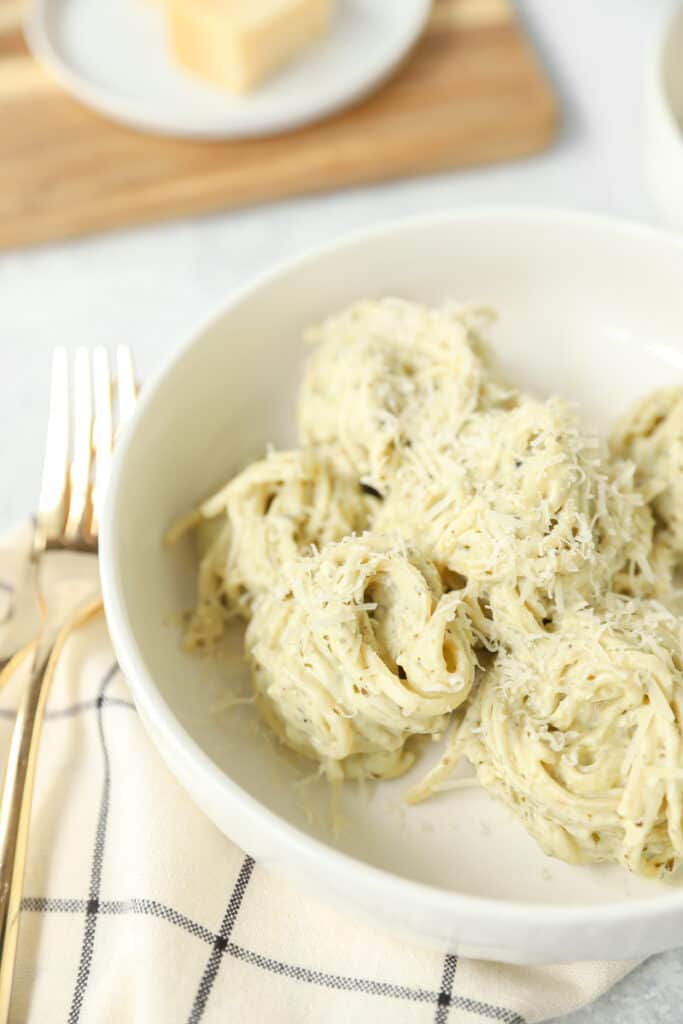 I've said it before and I'll say it again, once you see how easy it can be to make your own cream sauce or Alfredo sauce you'll never want to buy the jarred kind again! This really does come together in under 30 minutes, and that's including any prep time. The biggest way to save time here? Use jarred pesto. There are several good options in the grocery store, give Rao's Pesto a try it's one of my favorites!
If you have some leftover homemade pesto you can definitely use that instead, but to make this a super quick and easy weeknight dinner recipe go ahead and buy the jarred pesto.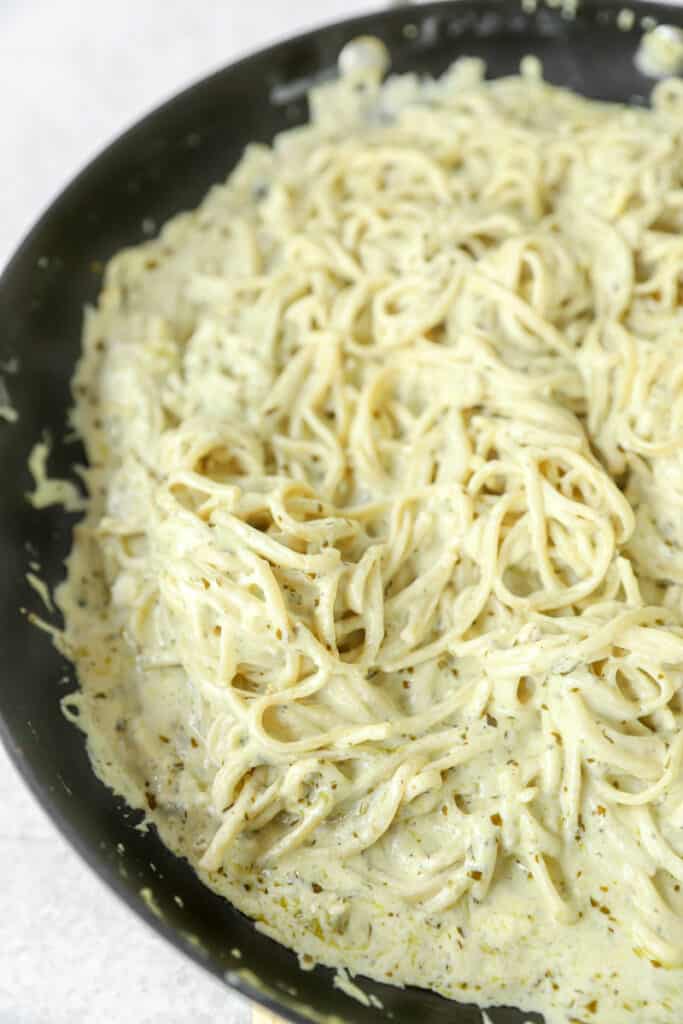 Quiz time. Do you know the extra special ingredient that makes an epic Alfredo sauce?
Nutmeg.
Surprised? I promise you, this is what makes the difference between a basic creamy Alfredo, and an irresistible there's 'something extra special about this' Alfredo. I use it in all of my Alfredo sauce recipes.
If you're on the fence about it, spoon out some of the sauce into a small bowl and add a dash or two of nutmeg and give it a taste! You'll see the extra depth of flavor it adds and you'll never want an Alfredo sauce without it!
While typical Alfredo uses the fettuccini noodle, for my Alfredo variation recipes I usually reach for a thin linguini or a thin spaghetti. For me it's the perfect texture….not too thick but not too thin either like an angel hair.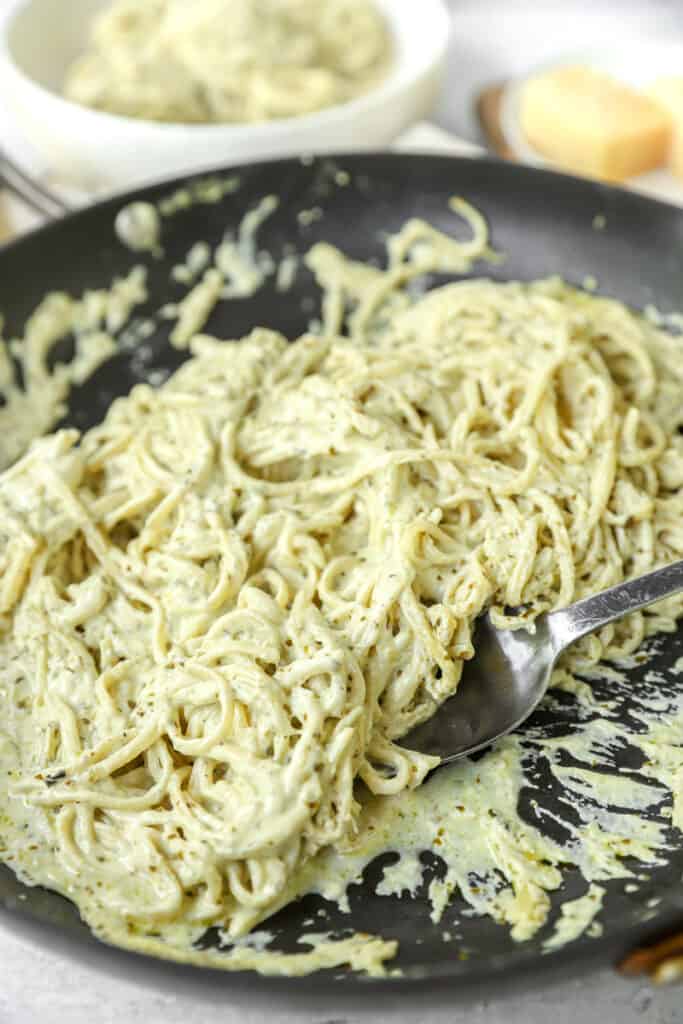 For more ways to use pesto, check out these recipes!
Pesto Chicken Parm
Creamy Pesto Pasta
Pesto Mayo
Chicken Pesto Pasta Bake
I've also have several more Alfredo pasta dinners you'll love!
Basil Alfredo
Alfredo Tomato Sauce
Easy Alfredo
Spicy Alfredo Pasta
Print
Pesto Alfredo
A delicious twist on Alfredo sauce by adding pesto! Pesto Alfredo is ready to eat in less than 30 minutes and tastes like a gourmet pasta dish from a restaurant.
Author:
Prep Time:

10 minutes

Cook Time:

20 minutes

Total Time:

30 minutes

Yield:

4-6 servings

Category:

Main Dish

Method:

Saute

Cuisine:

American Italian
Thin spaghetti or thin linguini pasta (I use about 3/4 of the box)
4 garlic cloves, grated
2 tablespoons butter
2 and 1/2 cups light cream
1 and 1/2 tablespoons flour
3/4 cup fresh grated Parmesan cheese
1/2 cup pesto
1/2 teaspoon pepper
1/4 teaspoon nutmeg
1/4 teaspoon salt
1 cup reserved pasta water
Instructions
1. Bring a large pot of salted water to boil. Once water has come to a boil add the pasta and cook. I always like to do about 3/4 of the box (I find that the full box is too much). Once the pasta is boiling, carefully ladle out 1 cup of the pasta water and set aside to use in the sauce.
2. In a medium pan over medium heat, melt the butter, then add the grated garlic and cook for 1 minute. Then, add the flour and stir, cook for another 30 seconds. Pour in the cream and whisk so that the flour mixture blends into the cream. Stir in the pesto. Simmer on medium-low for about 5 minutes to thicken the cream.
3. Add in the Parmesan cheese, salt, pepper, and nutmeg. Add as much pasta water as you want to thin the sauce to the consistency you want. I usually use a little over 1/2 cup.
4. To serve, add as much of the noodles as you'd like to the sauce and stir to coat. Garnish with more Parmesan.
Enjoy!