Get ready for the best chewy pumpkin chocolate chunk cookies. I know that's a bold claim, but these cookies are everything you want in a clove spiced pumpkin cookie. Soft and chewy, rich dark chocolate, and lots of pumpkin spice…you're going to have to try these for yourself!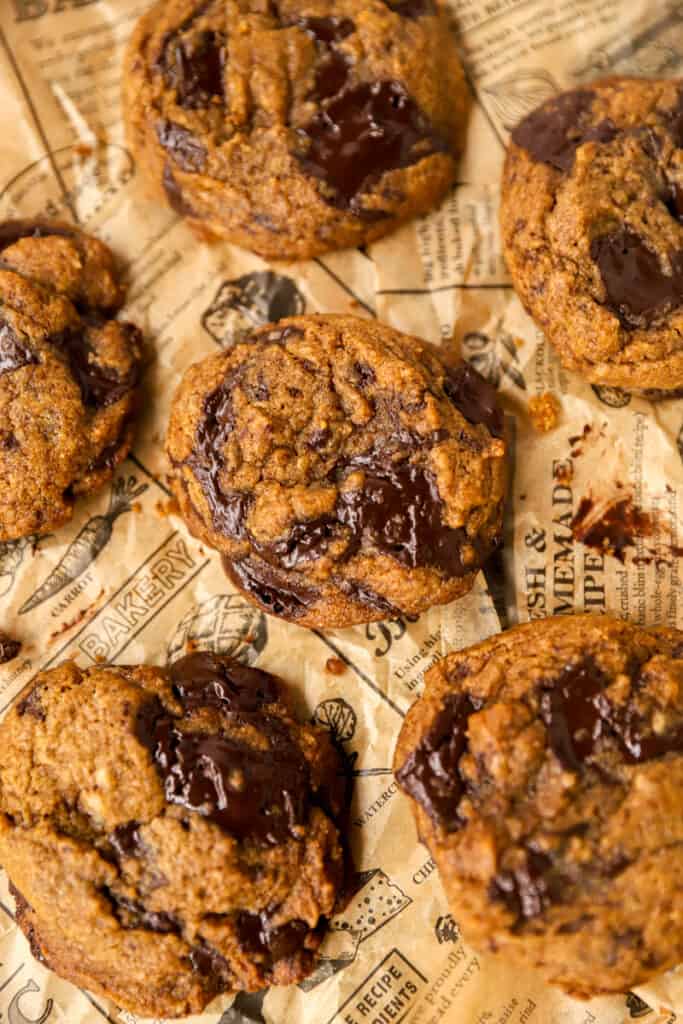 If crunchy cookies are your thing, you're going to want to leave now. I only create recipes for soft and chewy cookies, and these pumpkin dark chocolate chunk cookies are definitely that.
You'll also love these because they're soft but not pillowy. Through testing I found that sometimes pumpkin cookies can come out too cakey, too airy and pillowy. But not these! With this recipe you get all the pumpkin spice with the epic chewiness of soft baked chocolate chunk cookies.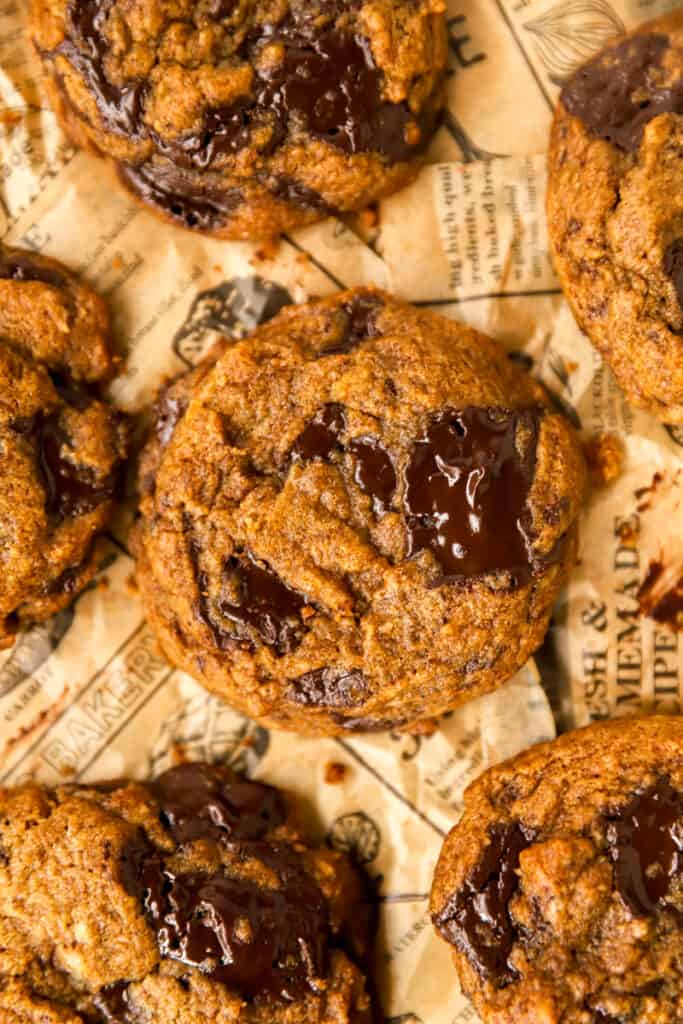 WHY YOU SHOULD COOK THE PUMPKIN
So pumpkin has a lot of water in it. In recipes like pies, muffins, cakes, or breads this isn't a problem. But in cookies, we don't want all that extra water we just want the pumpkin texture, flavor, and color. A trick to reducing the moisture a bit is to pre-cook the pumpkin. By adding the spices we're also activating their flavors so these cookies really have an intense pumpkin spice flavor.
It doesn't over complicate the recipe, you'll just be using an extra pot. Add the 1/2 cup of pumpkin to a small pot and then add the cloves, cinnamon, ginger, and cloves. Stir and cook on low for 3-5 minutes, stirring constantly so the pumpkin doesn't burn.
Spoon it into a bowl and that's it!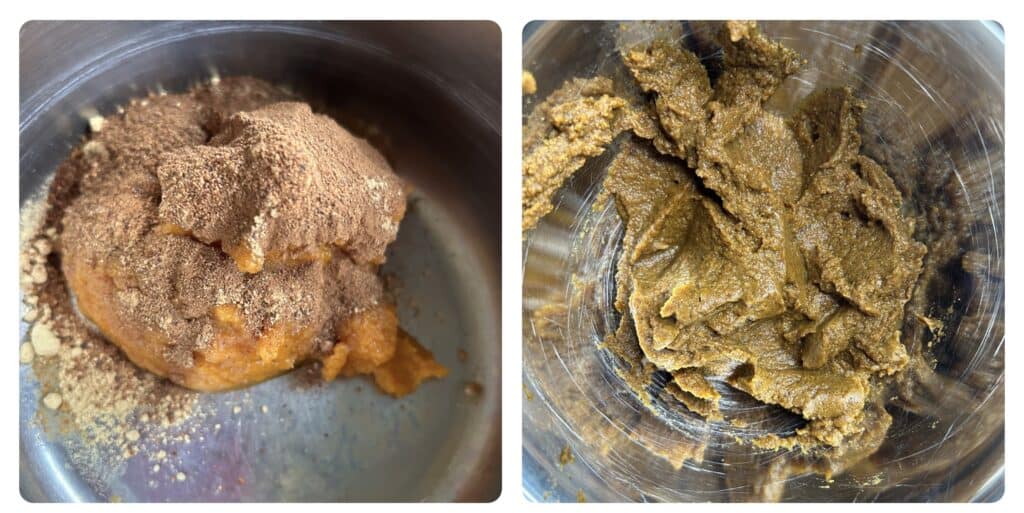 Once you've made the brown butter (I use brown butter in all of my cookie recipes) just combine the wet and dry ingredients, and add in the chopped dark chocolate. Let the dough chill in the fridge for 30 minutes (don't skip this step!!) then bake!
As with most of my dark chocolate cookies, I like to buy bars of dark chocolate and chop it up myself. My go-to bars are either this Ghirardelli 72% Cocoa or this Lindt 70%.
Also, when I make any pumpkin recipes I never use pre-made pumpkin spice. I prefer to mix up the spices myself, which really allows you to control the strength of each spice.
For this cookie my pumpkin spice blend is:
1 and 1/2 teaspoons cinnamon
1 teaspoon ground ginger
1/2 teaspoon cloves
1/4 teaspoon nutmeg
If you can't tell, there is NO shortage of pumpkin spice flavors here.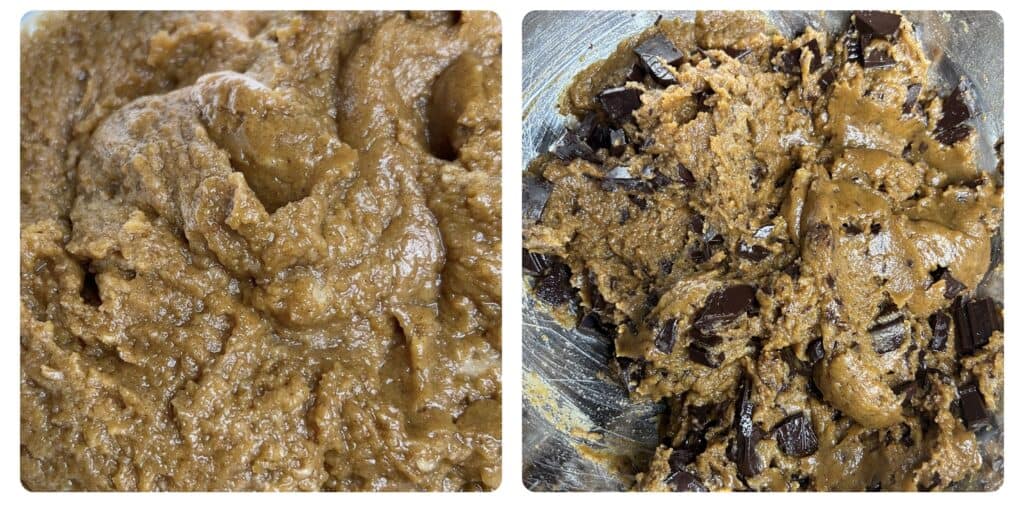 I can eat pumpkin recipes year round, but these cookies truly are a taste of Fall. No special occasion needed, make these for a pumpkin spice cookie treat!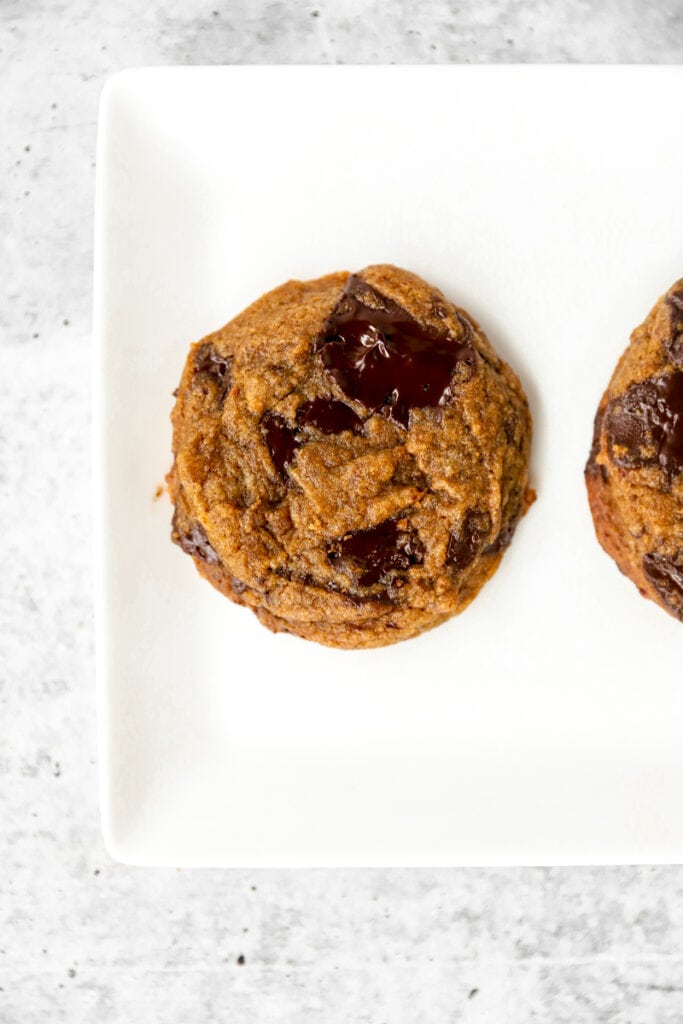 For more cookie recipes, check out some more tasty treats!
S'mores Cookies
Apple Pie Cookies
Strawberry Dark Chocolate Cookies
More pumpkin recipes!
Pumpkin Carrot Cake Muffins
Pumpkin Pancakes
Pumpkin Chocolate Muffins
Print
Pumpkin Chocolate Chunk Cookies
Soft and chewy pumpkin chocolate chunk cookies perfect for Fall baking! Full of pumpkin spices and pools of rich dark chocolate.
Author:
Prep Time:

15 minutes

Cook Time:

20 minutes

Total Time:

35 minutes

Yield:

20-21 cookies
1 and 3/4 cups all purpose flour
1 cup butter
1/2 cup 100% pure pumpkin
1 and 1/4 cup dark brown sugar, lightly packed
1 egg yolk
1 teaspoon vanilla extract
1 and 1/2 teaspoon cinnamon
1 teaspoon ground ginger
3/4 teaspoon salt
1/2 teaspoon baking soda
1/2 teaspoon cloves
1/4 teaspoon nutmeg
2 bars dark chocolate, chopped (use 3.5oz bars, or 1 and 1/2 cups dark chocolate morsels)
Instructions
1. Start by making the brown butter. If using sticks of butter, slice it into a few large chunks so it will melt evenly. Place the butter into a light colored pot over medium heat. Cook the butter until evenly melted, then adjust the heat higher to medium-high. Allow the butter to come to a rapid bubbly simmer.
2. While adjusting the heat between medium and medium-high, continually stir the butter until the milk particles have browned and the liquid is a rich caramel or amber color. I've found that once the butter is melted this process takes 4-5 minutes. Once fully browned, immediately pour into a heat proof bowl and set aside to slightly cool before using in the rest of the recipe.
3. Next cook the pumpkin to remove excess moisture. To a small pot add the pumpkin and the cinnamon, nutmeg, cloves, and ginger. Stir and cook on low for 3-5  minutes, stirring constantly. Don't let it sit for too long so it doesn't burn. Pour into a heat safe bowl and set aside.
4. To a large mixing bowl, add the flour, baking soda, and salt.
5. To the bowl of brown butter, mix in the dark brown sugar, the egg yolk, and the vanilla. Add in the pumpkin mixture.
6. Take the wet ingredients and pour into the bowl of dry ingredients. Stir well to combine, breaking up any clumps of flour. Add the chopped chocolate and stir.
7. Chill the dough in the fridge for 30 minutes.
8. Preheat the oven to 350 degrees. Bake for 10-11 minutes and allow to cool on baking sheet for 5 minutes before removing to a plate. For super soft cookies, bake the cookies on a parchment paper lined baking sheet. For slightly crisper edges, bake on an unlined nonstick baking sheet.
Keywords: pumpkin dark chocolate cookies