Chewy sprinkle cookies are a super soft baked sugar cookie loaded with colorful sprinkles. Cut into fun shapes or cut into circles, these will brighten your day and are a fun cookie to bake with kids!
Recipe at a Glance
Prep time: 1 hour and 15 minutes
Cook time: 9 minutes per batch
Notes: You're probably noticing that long prep time. The dough needs to chill in the fridge for an hour before baking, so make sure you plan ahead for these!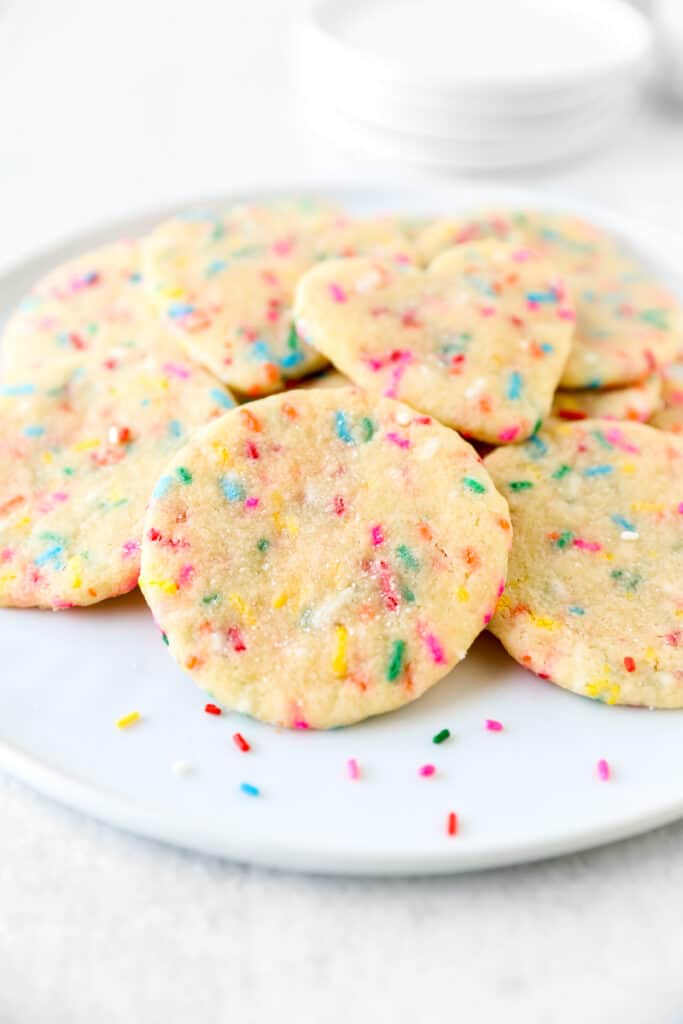 Baking on parchment paper
If you like super chewy super soft baked cookies, you've landed on the right recipe. And the trick to helping your sprinkle cookies bake up chewy and soft is parchment paper.
When you use parchment paper you're putting a barrier between the cookie dough and the surface of the baking sheet. This means the bottom of the cookie won't get browned or crisp and the cookie will stay perfectly soft and chewy!
And another bonus for lining the cookie sheet with parchment paper is it makes cleanup a breeze! Just toss the paper when you're done baking and you're left with a cookie sheet that doesn't need as much scrubbing and washing.
Soft and chewy cookies and less to cleanup? I'm in!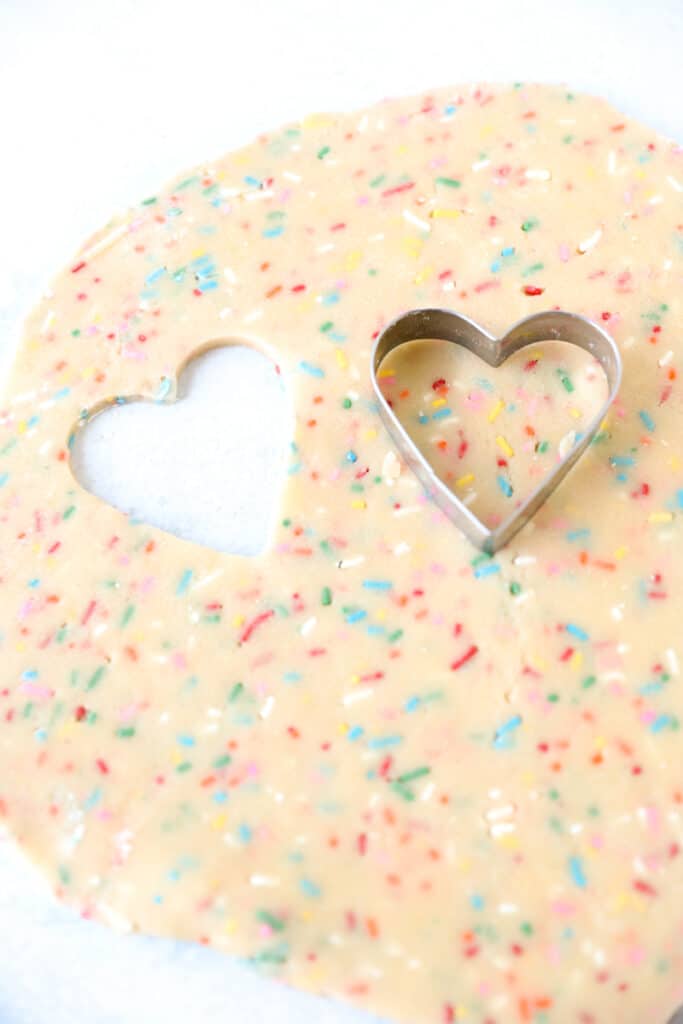 Baking tips
I used circle and heart shaped cookie cutters. I don't recommend using a shape that has lots of edges or a very detailed design. This dough will spread as it bakes and if the shape is too detailed you'll risk losing some of the design elements.
Incase you couldn't tell already, I'm a huge fan of using parchment paper to bake the chewy soft cookie!
For a soft cookie I baked mine for 9 minutes. If you want them chewy but a little more "done" you can add an extra minute to the bake time.
Let them rest on the cookie sheet for 5 minutes before gently moving them to a plate with a spatula. If you try to move them to soon they'll mush together or break.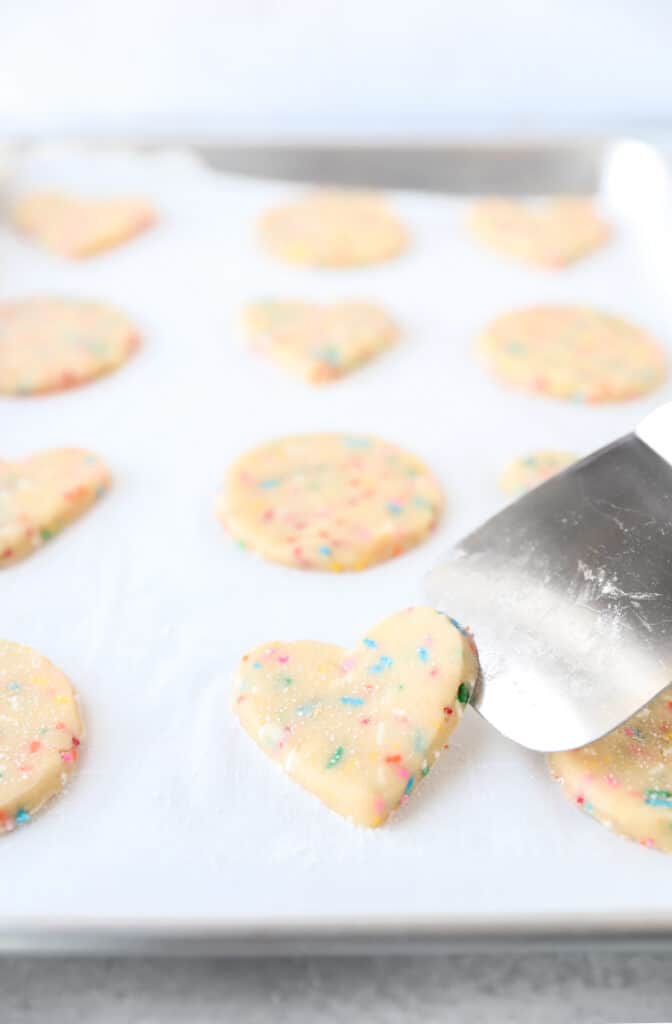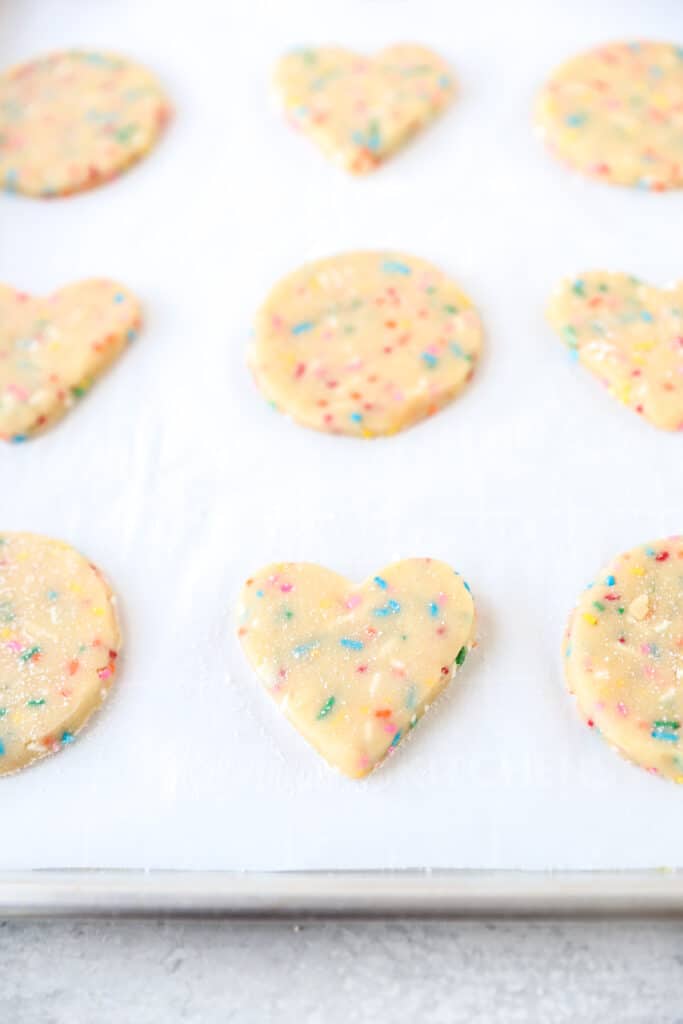 I love how festive these look with the sprinkles baked into the cookie, not just as a topping decoration! It almost looks like edible confetti colorfully speckling each cookie. I used 1/2 cup sprinkles which for me was the perfect amount. It's just enough to add the color and a bit of texture to each bite without being overwhelming.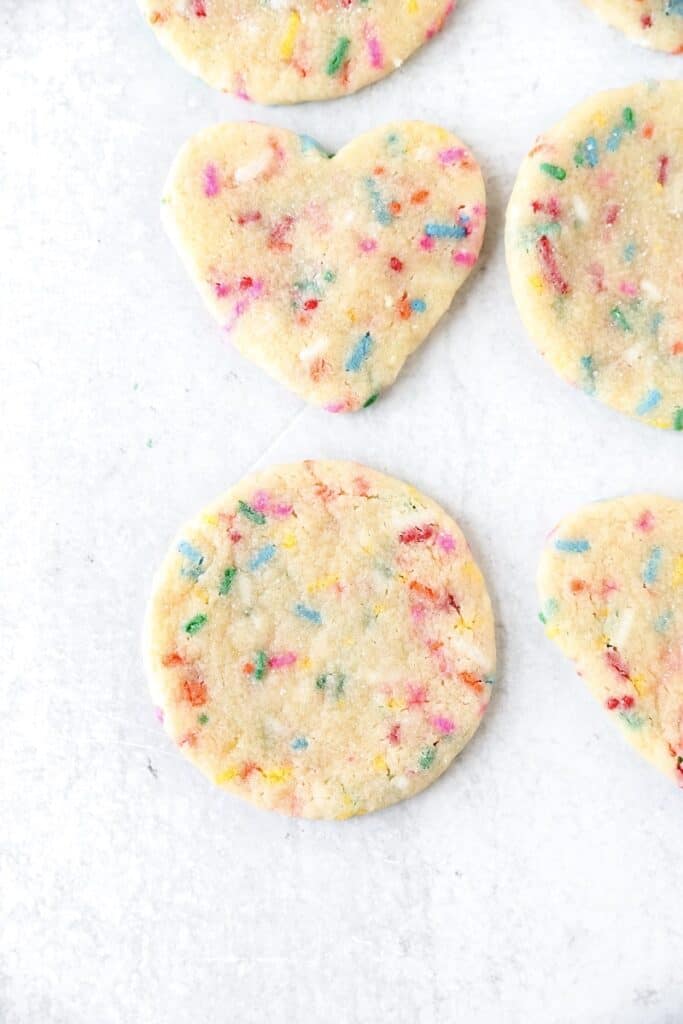 Need more cookie inspiration? I've got a few others you might want to add to your baking list!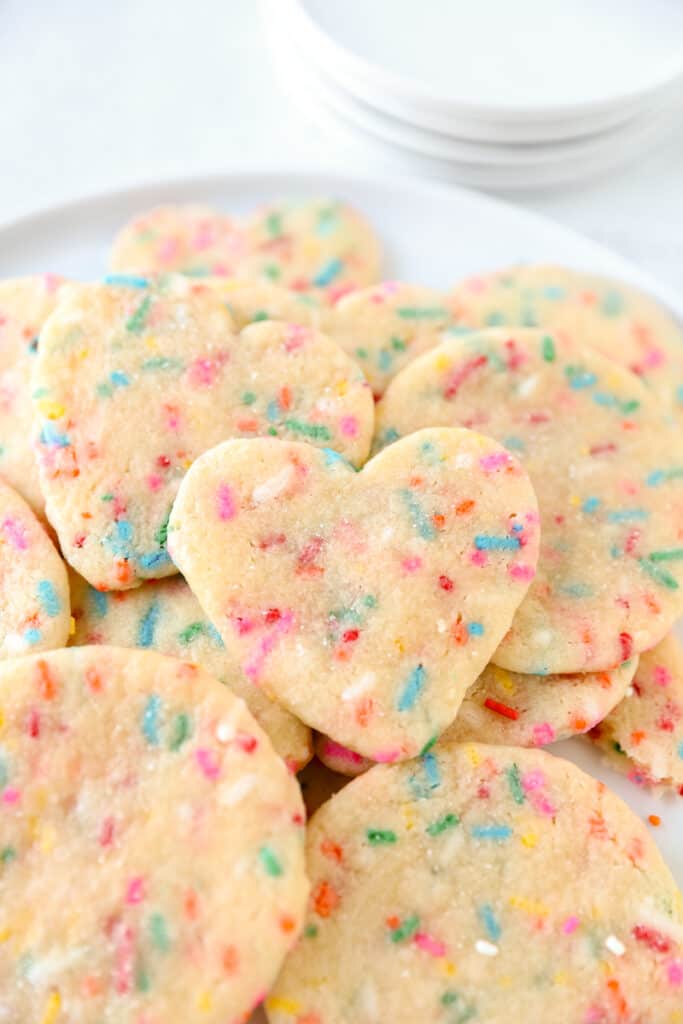 If you made these cookies let me know what you thought in the comments!
And for more recipes, cooking, and food photography make sure you follow me on Instagram!
Print
Chewy Sprinkle Cookies
These cookies are super chewy, super soft baked, and loaded with colorful sprinkles! A fun sugar cookie you can bake any time of the year.
Author:
Prep Time:

1 hour 15 minutes

Cook Time:

9 minutes

Total Time:

1 hour 24 minutes

Yield:

24 – 26 cookies

Category:

Baking

Method:

Bake

Cuisine:

American
1 and 1/2 cups all purpose flour (plus more for rolling)
1 cup white sugar (plus more for decorating)
1 stick softened butter (I used salted)
1/2 cup sprinkles
2 tablespoons milk or half & half
2 teaspoons vanilla extract
1 teaspoon baking powder
1/2 teaspoon salt
1 egg
Instructions
1. In a large bowl combine the flour, salt, and baking powder.
2. In another bowl, cream the butter. Beat in the sugar until blended, then add the vanilla, milk, and the egg. Beat on medium until everything has combined.
3. Pour the wet mixture into the dry ingredients and stir gently, Add in the sprinkles and continue to stir until they are evenly mixed into the dough. Use your hands to gently form a large cookie dough ball then place the bowl in the fridge to chill for 1 hour.
4. In the last 15 minutes of chilling, preheat the oven to 350 degrees. Prepare your cookie sheet by lining it with parchment paper.
5. When the dough is completely chilled, remove it from the fridge and lightly flour the surface you'll be rolling on. Gently press the dough into a ball, if the dough feels dry the warmth from your hands will begin to melt the butter again and eventually you will have smooth dough to roll.
6. Place the dough on the floured surface and begin rolling until 1/4″ thick, frequently turning the dough to avoid sticking to the counter. If the dough is sticking to the counter or your rolling pin, just add more flour. I had to sprinkle the top of the dough a couple times with a little flour as I was rolling.
7. Cut the cookie shapes, add to the baking sheet, sprinkle them with more sugar, and bake for 9 minutes. Let rest for 5 minutes before using a spatula to place them on a plate.
Notes
Use parchment paper on your baking sheet to get a super soft and chewy cookie!
For a more "done" cookie you can increase the bake time to 10 minutes, but I love the super soft chewy the 9 minutes will get you!
Keywords: chewy sprinkle cookies