Jalapeño corn dip is a cheesy dip loaded with seasonings and spices! The only prep here is dicing the jalapeños, and once that is done the rest of the dip mixes up quickly. A crowd-pleasing dip that's not shy on flavor!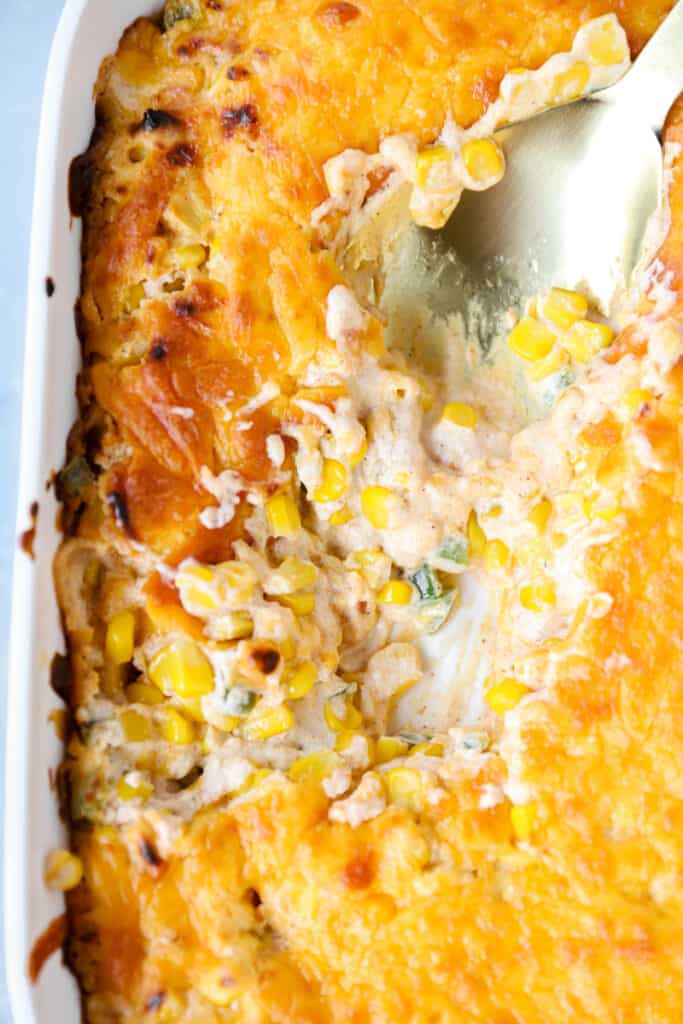 In my opinion, a dip is a MUST at a party. And you can't go wrong with a cheesy baked dip. When you add in all the warm spices you really have a winner here.
IS JALAPEÑO CORN DIP SPICY
No! This dip isn't spicy even with the fresh jalapeños and cayenne pepper. First, the jalapeños have their seeds removed. The seeds are what pack the heat, so with those removed we're left with the warm flavor of jalapeño peppers without that heat that makes you run for a cooling glass of milk.
Second, there's only 1/4 teaspoon cayenne pepper in the dip. This ads a little warmth, without an overpowering spiciness. Want it spicy? Kick up the cayenne if you're looking for a dip that has a little bit more zing.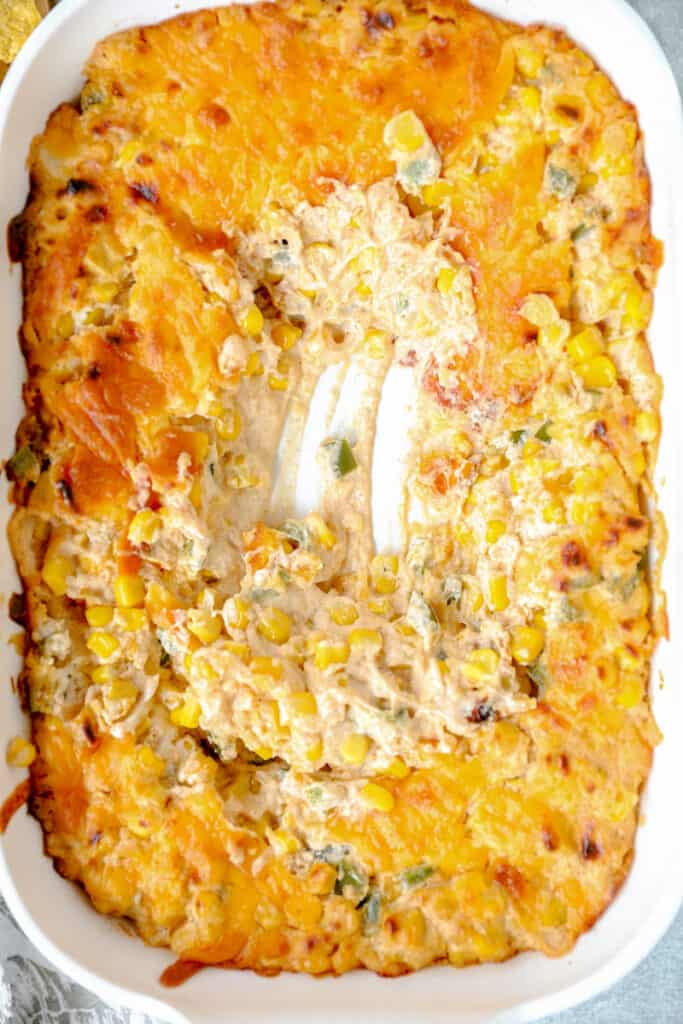 WORKING WITH FRESH JALAPEÑOS
For this dip I use fresh jalapeños. Here are a few tips to working with these peppers.
Remove the seeds. As I mentioned above, the spice is in the seeds. Removing those will leave you with the pepper flavor without the overpowering spice.
Don't touch your face. Since your hands will come in contact with the seeds don't touch your face or your eyes! You could also wear food prep gloves.
Thoroughly wash your surfaces. After you're done dicing, make sure to thoroughly clean the cutting board, knife, and anything else that came into contact with the seeds.
Don't wash the insides of the peppers. Learned this one the hard way! Don't use water to wash out the seeds. I've found doing this introduces the spice into the air and its really irritating to breathe!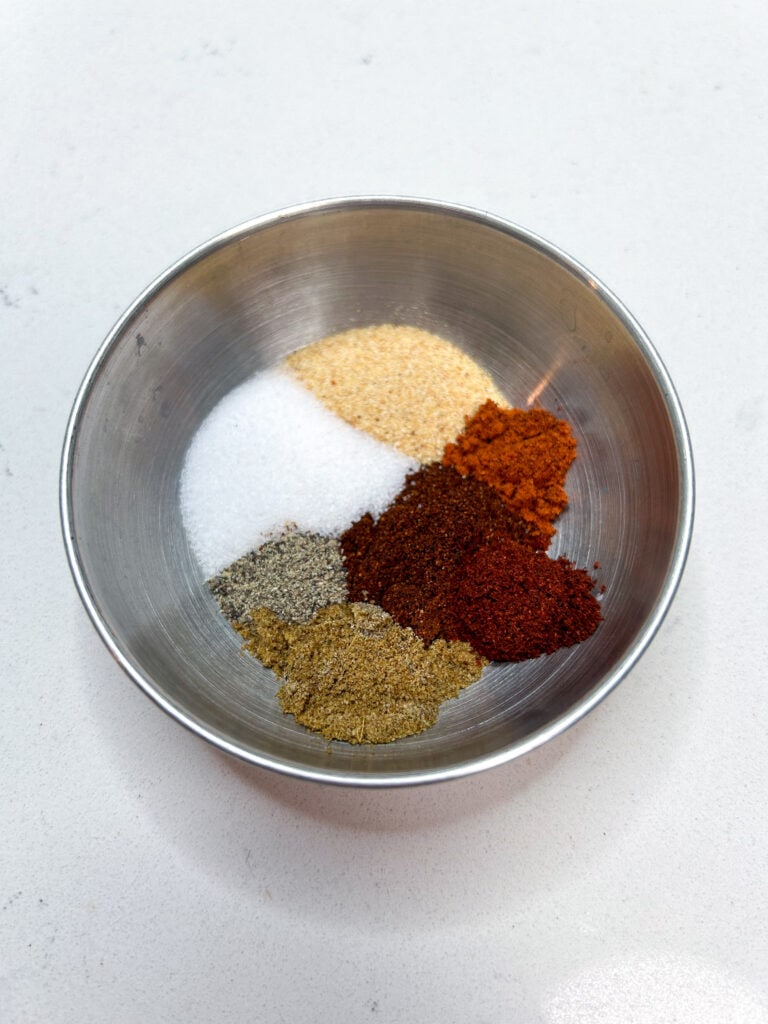 Like I said, this dip is not shy on flavor. This isn't just a regular old cheesy dip with you mix the cream cheese with the ingredients and bake. You're going to be seriously seasoning the cream cheese with:
Garlic powder
Chili powder
Smoked paprika
Cumin
Cayenne pepper
Salt and pepper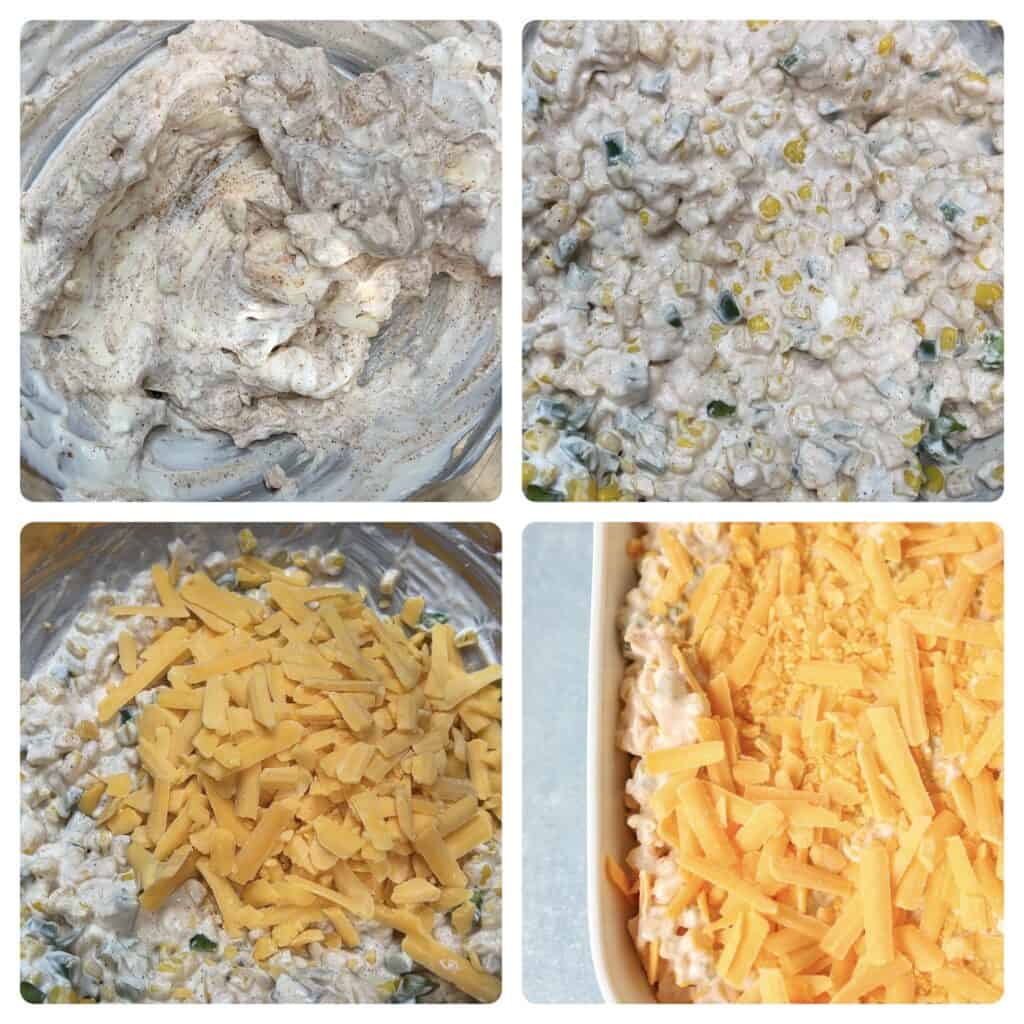 The prep time in the recipe is really for dicing the peppers. While you're dicing the peppers you can microwave the corn if you're using frozen corn. Then it's as simple as mixing everything together and baking.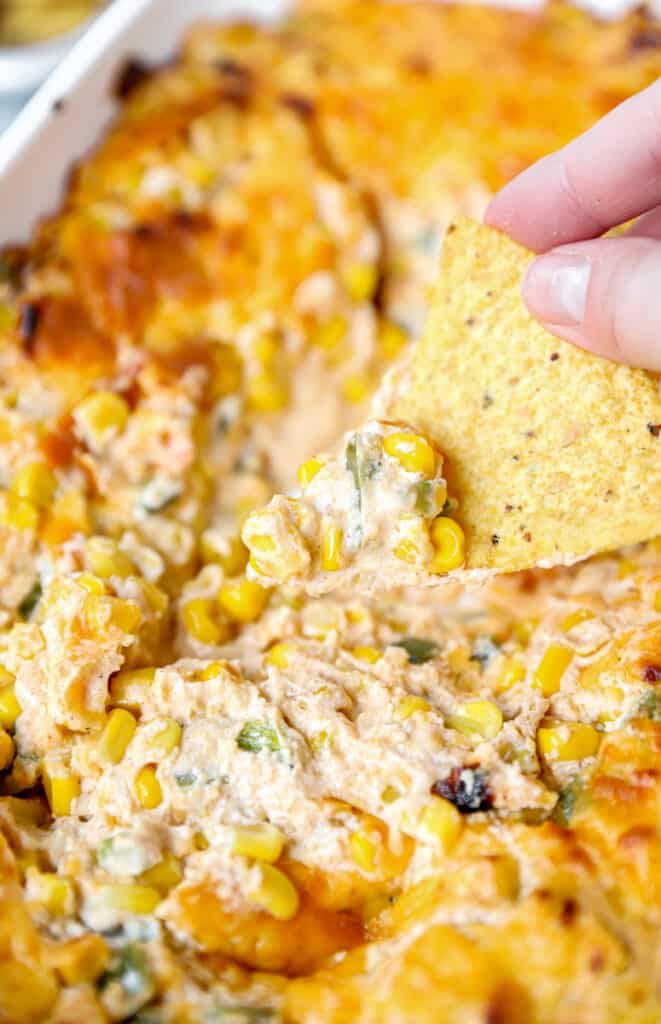 For more party dips check these out!
Cream cheese salsa dip
Buffalo chicken dip
Hot taco dip
For more ways to use jalapeños:
Jalapeños Cheddar scones
Jalapeños popper chicken
Print
Jalapeño Corn Dip
A flavorful baked dip loaded with fresh jalapeños, corn, Cheddar cheese, and spices! A crowd pleasing easy dip.
Author:
Prep Time:

15 minutes

Cook Time:

25 minutes

Total Time:

40 minutes

Yield:

8 servings

Category:

Appetizer

Method:

Bake
3 cups corn (I used cooked frozen but you can also use canned or fresh)
8oz cream cheese, softened
1 cup sour cream
1 and 1/4 cup shredded Cheddar cheese
4 jalapeños, seeds removed and diced
1/2 teaspoon chili powder
1/2 teaspoon garlic powder
1/2 teaspoon salt
1/4 teaspoon cumin
1/4 teaspoon smoked paprika
1/4 teaspoon cayenne pepper
1/4 teaspoon black pepper
Topping
3/4 cup Cheddar cheese
Instructions
1. Preheat the oven to 400 degrees.
2. Combine the softened cream cheese with the sour cream.
3. Combine the garlic powder, chili powder, cayenne, cumin, smoked paprika, salt, and pepper in a bowl then add into the cream cheese blend.
4. Add in the corn and diced jalapeños, the mix in the 1 and 1/4 cups Cheddar cheese.
5. Add to a baking dish and top with 3/4 cup Cheddar cheese. Bake for 20 minutes, then place under the broiler for 2-3 minutes to brown the top.
Serve with chips and enjoy!
Keywords: jalapeño corn dip