If you've been searching for an easy bite sized appetizer, search no further. These Brie and Raspberry Phyllo Bites are made with a homemade raspberry spread and crispy bacon. They're the little appetizer that will be a show stopper at any party, and everyone will be wanting this recipe!
I photographed these around the Holidays, but these are a perfect little appetizer any time of the year!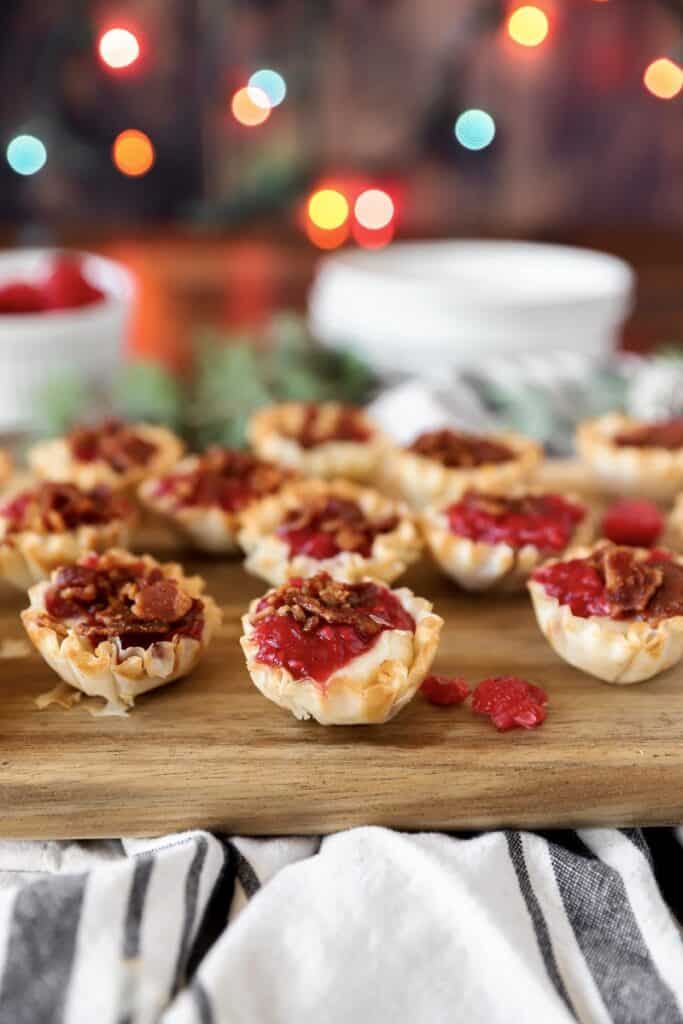 HOW TO COOK WITH BRIE
How can you not love Brie, right? It's smooth, soft, and buttery. It's the perfect accompaniment to something sweet like berries and preserves and salty like bacon or prosciutto. It also melts perfectly for those huge pools of cheese that make the most epic bite.
But here's the thing you need to know for this recipe, soft Brie cheese can be really tricky to chop and dice. So what's the solution? Just take the whole wheel of cheese, still in the packaging, and pop it in the freezer for about an hour! By popping it in the freezer you'll be able to easily chop it into bite-sized chunks.
While the Brie is chilling in the freezer, you can get started on prepping for the rest of the recipe! Cook your bacon strips to the level of crispiness you like, make the raspberry compote, and preheat your oven.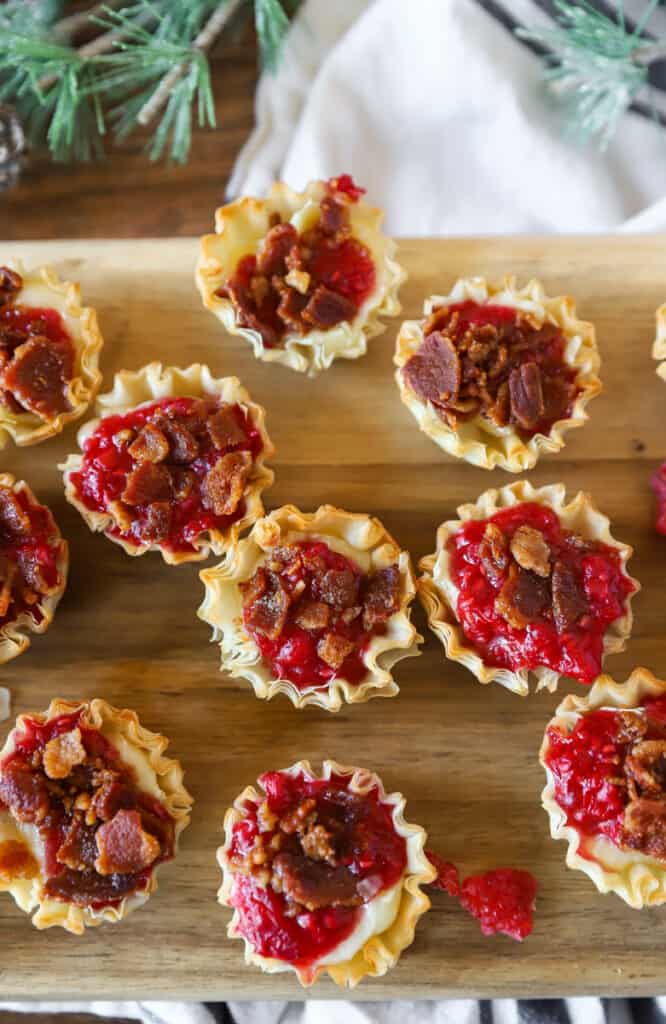 USING PHYLLO SHELLS
I absolutely LOVE these phyllo shells! They're the perfect little vessel for so many appetizers both sweet and savory. They are pre-baked, and ready to serve as-is! Not only are they easy to use, but they really elevate the look of any appetizer. They are also perfect for handheld snacks so not utensils required!
You should be able to find these in your grocery store in the freezer aisle. In some grocery stores these could be on an end-cap display outside of the freezer, and in some stores these will actually be inside the freezer new the puff pastry and frozen pies.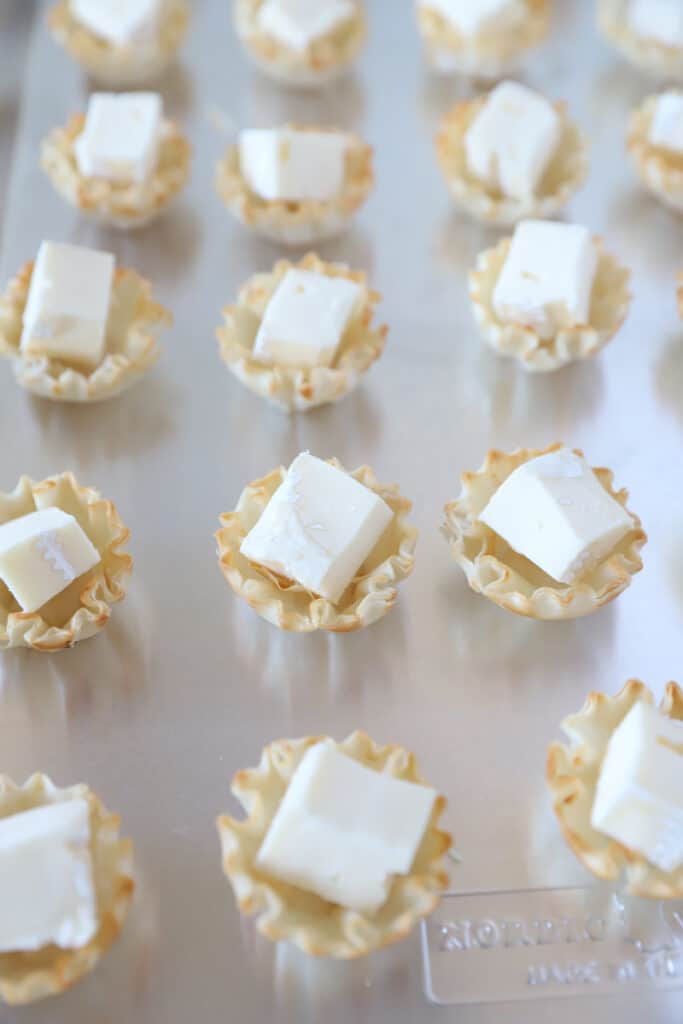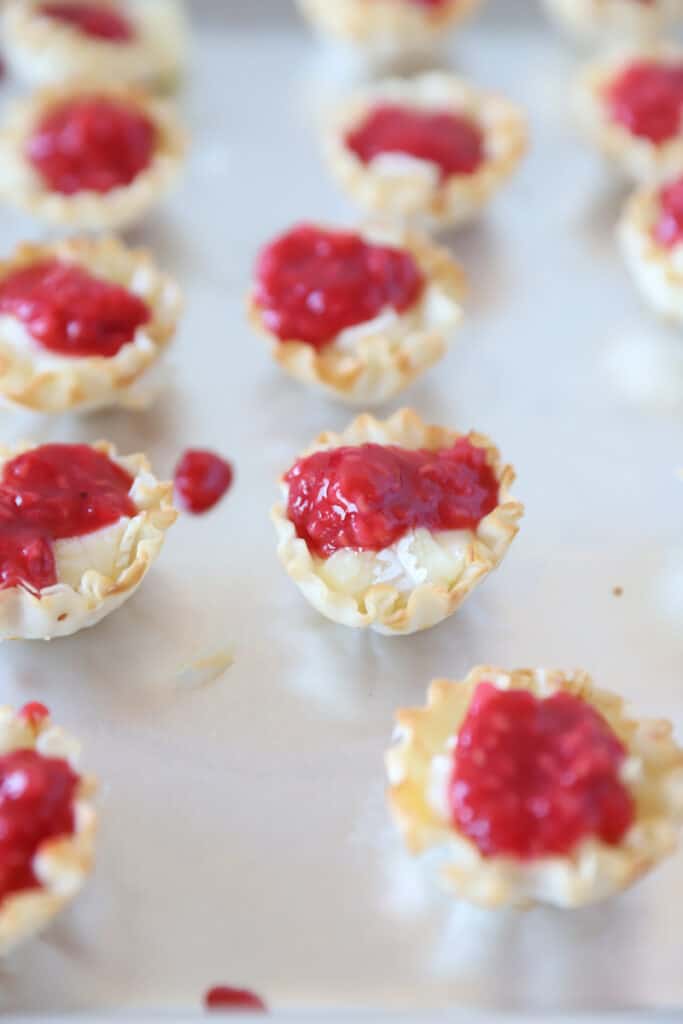 MAKE AHEAD AND STORAGE
These are best made and served right away, these are not a make ahead and reheat type of dish. The thing is, once the phyllo shells are put in the fridge they'll become soggy, which is totally not what we want here.
If you want to try a do some prep for these here's what I recommend:
Make the bacon and crumble into pieces, store in the fridge.
Make the raspberry sauce, and store in the fridge.
Then the day you want to serve these, just freeze and chop the Brie then layer everything in the phyllo shell. It will cut the prep time way down but won't compromise the texture of the bites.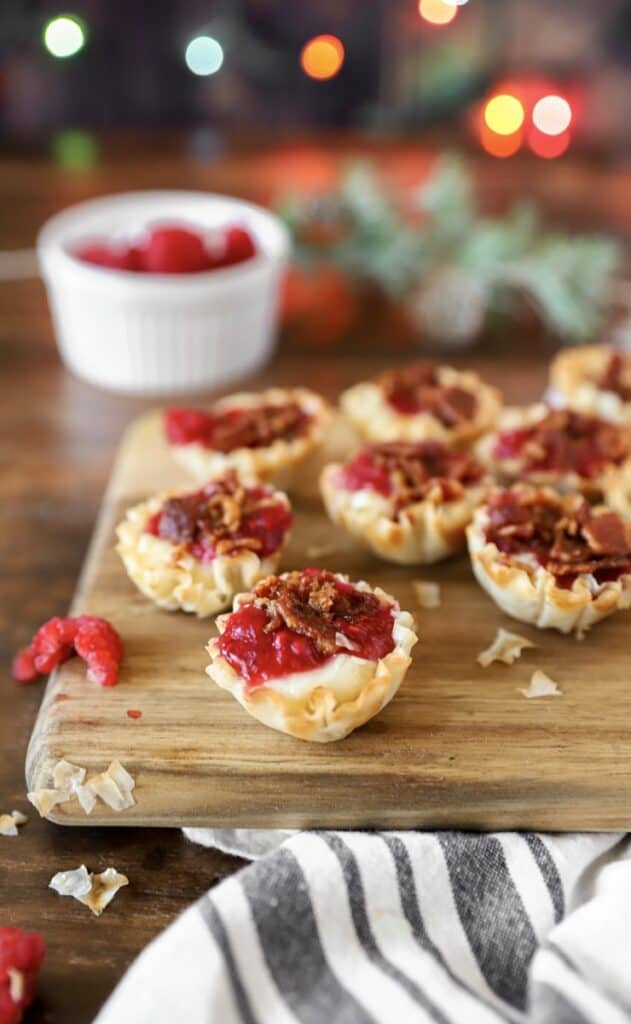 Check out more of my phyllo shell recipes!
Mushroom and Bacon Bites
Buffalo Chicken Bites
Loaded Potato Bites
For more party-perfect appetizers check out some more of my favorites.
Cream Cheese Salsa Dip
Hot Taco Dip
Whipped Feta
Whipped Avocado
Street Corn Fries
And for a crowd pleasing party cocktail, serve a Limoncello Vodka.
You can also browse my full collection of appetizers for more ideas!
Print
Brie Bites
These are the perfect bite sized appetizer for any party. Smooth and creamy Brie cheese combines with homemade raspberry spread and savory crunchy bacon. Impress your guests with these little cuties!
Author:
Prep Time:

1 hour

Cook Time:

18 minutes

Total Time:

1 hour 18 minutes

Yield:

30 phyllo cups

Category:

Appetizer

Method:

Baking

Cuisine:

American
8oz wheel of Brie cheese
2 boxes of 15 count phyllo cups
5-6 slices of bacon
1 cup fresh raspberries
1 tablespoon white sugar
1 tablespoon water
1 teaspoon white vinegar
2 teaspoons corn starch
2 teaspoons dark brown sugar
Instructions
1. Freeze the Brie cheese for one hour to make it easier to dice.
2. When the freeze time for the Brie is almost up, place the 30 phyllo cups on a baking sheet and preheat the oven to 350 degrees.
3. Cook the bacon strips in a large frying pan, I like crispy bacon which takes about 10 minutes for me. Once the bacon is cooked to your liking, remove and place on a paper towel lined plate and dab with a paper towel to remove excess grease. Once bacon is cooled to the touch, crumble into small pieces.
4. To make the raspberry preserve spread, place the 1 cup of raspberries into a small pot over medium-low heat and mash with a fork. Add the water and the white sugar and continue to mash until the raspberries have broken down completely. Stir in the corn starch, brown sugar, and vinegar and cook for about 2 minutes, then pour into a bowl to let cool.
5. To prepare the Brie cheese, remove from packaging and slice off the rind. Dice the wedge into small squares that can git into the phyllo cups. Place one cheese square into each phyllo cup, you should have some cheese squares leftover. Bake for 8 minutes. Remove from the oven and fill any cup that looks low with another small square of cheese. Top with the raspberry preserves and crumbled bacon. Bake another 10 minutes.
Notes
The Brie cheese needs to freeze for an hour before making this. If you don't it's going to be pretty difficult and messy trying to dice it into the little squares that fit in the phyllo cups.