Busy people everywhere rejoice! There exists an easy and quick pasta dinner that is so wonderfully flavorful you'll want to make this every week, and it's this Sun-dried Tomato pasta in a delicious basil and lemon tomato sauce.
I love a good pasta dinner, and like adding new recipes to my rotation that are a bit lighter and aren't your typical cream-based pasta. This sauce is made with sautéed garlic, fresh chopped basil, lemon zest, tomato paste and some of the pasta water. Lots of sweet sun-dried tomatoes and of course, burrata cheese. If you've never had burrata cheese before please go to the store tomorrow and buy it immediately. Burrata is basically an outer shell of Mozzarella cheese and an interior of smooth and creamy Mozzarella. It's heavenly. I want to think up a million recipes now to use burrata…and once you try this recipe I think you'll agree.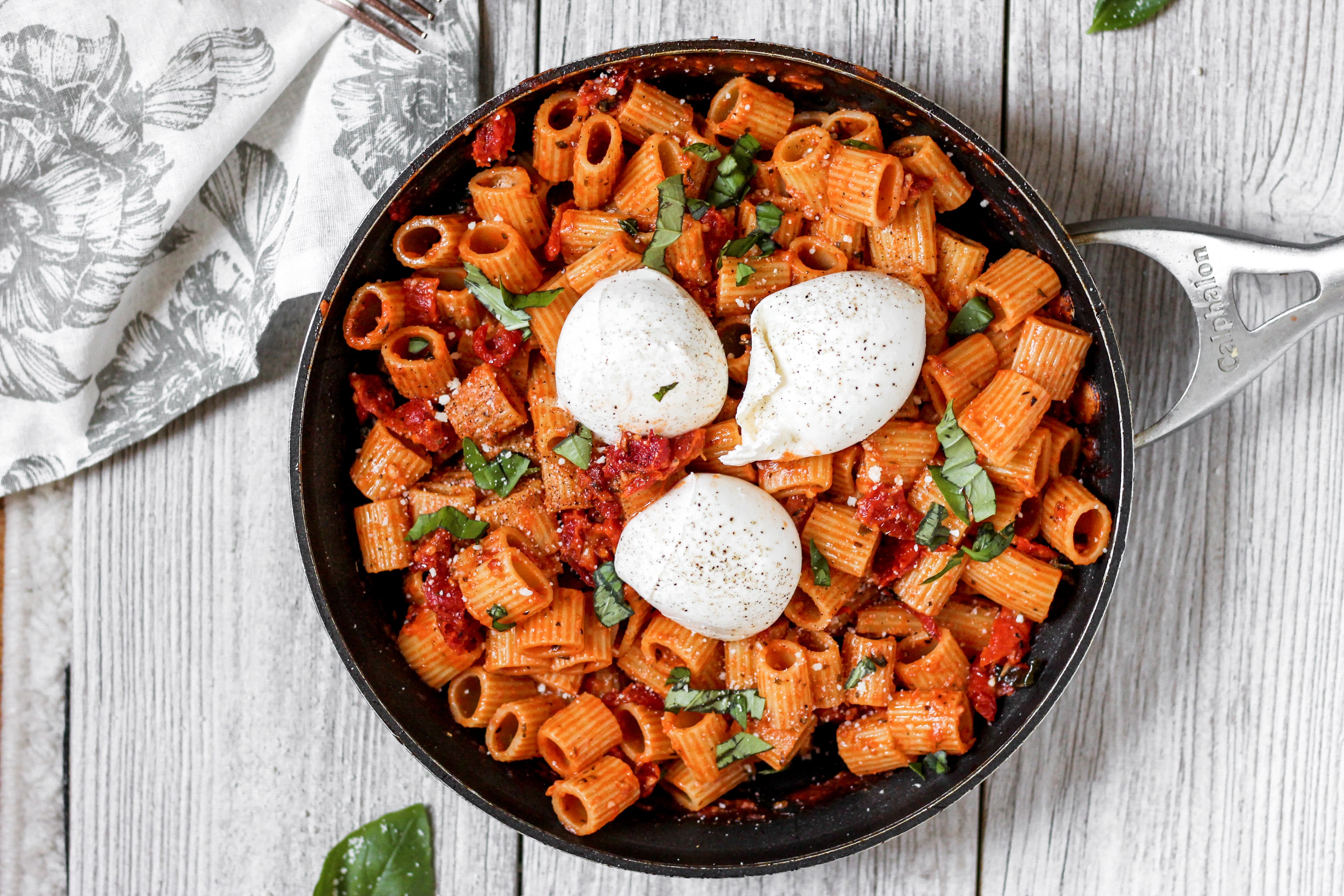 Burrata cheese is by far one of my favorite cheeses. The outer Mozzarella shell breaks away to reveal the smooth and cool creamy center that perfectly coats the noddles and adds a bit more creaminess to whatever sauce you have.
To make this easier for you I've written the instructions so that you take care of all the chopping/zesting in the beginning. Another note, the original recipe called for a 1-lb box of rigatoni pasta. I made an entire box, but did not use all of the noodles in the sauce. If I did, I think there wouldn't be enough sauce to generously cover the noodles. So, my recommendation is make the pasta as called for in the recipe but then add it slowly to the sauce and when you've reached the desired amount stop adding pasta.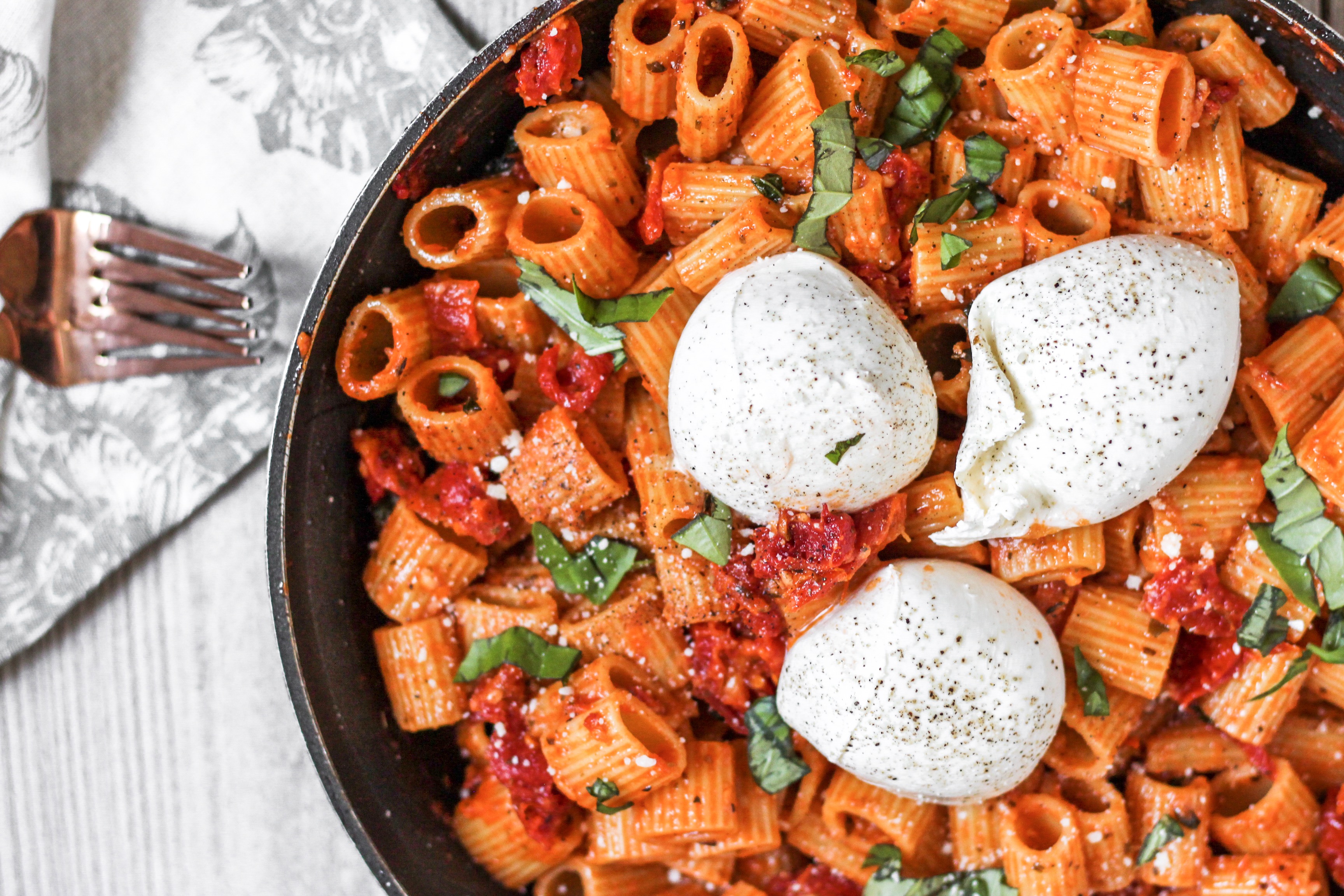 This is the best summer pasta recipe, the light sauce paired with the lemon zest and basil make this refreshing and not at all heavy or overly rich.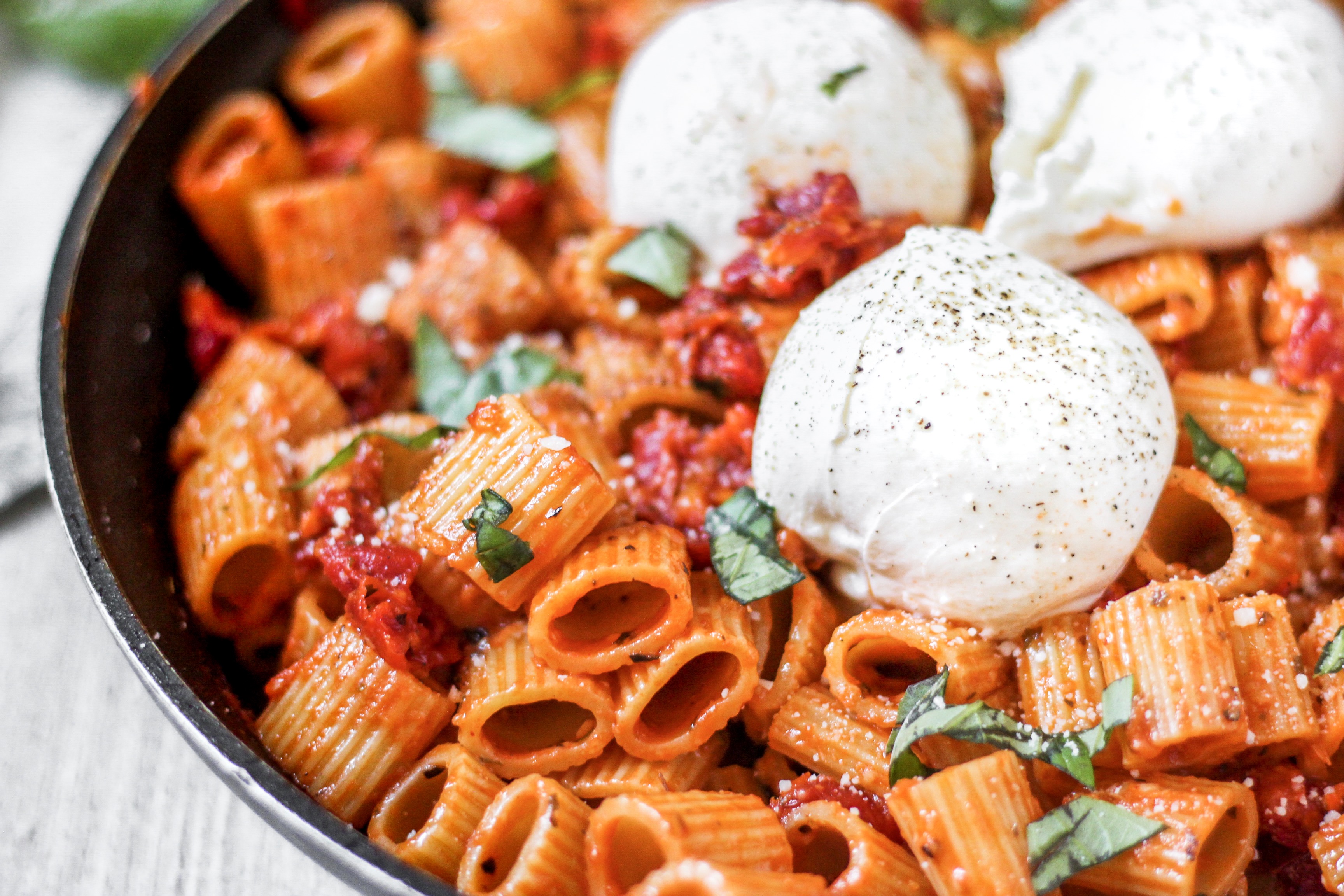 This will be part of your dinner rotation I promise! As noted below in the recipe, I only use 3/4 of the box, I always find that an entire box of pasta is way too much noodles and there isn't enough sauce. So only use 3/4 of the box.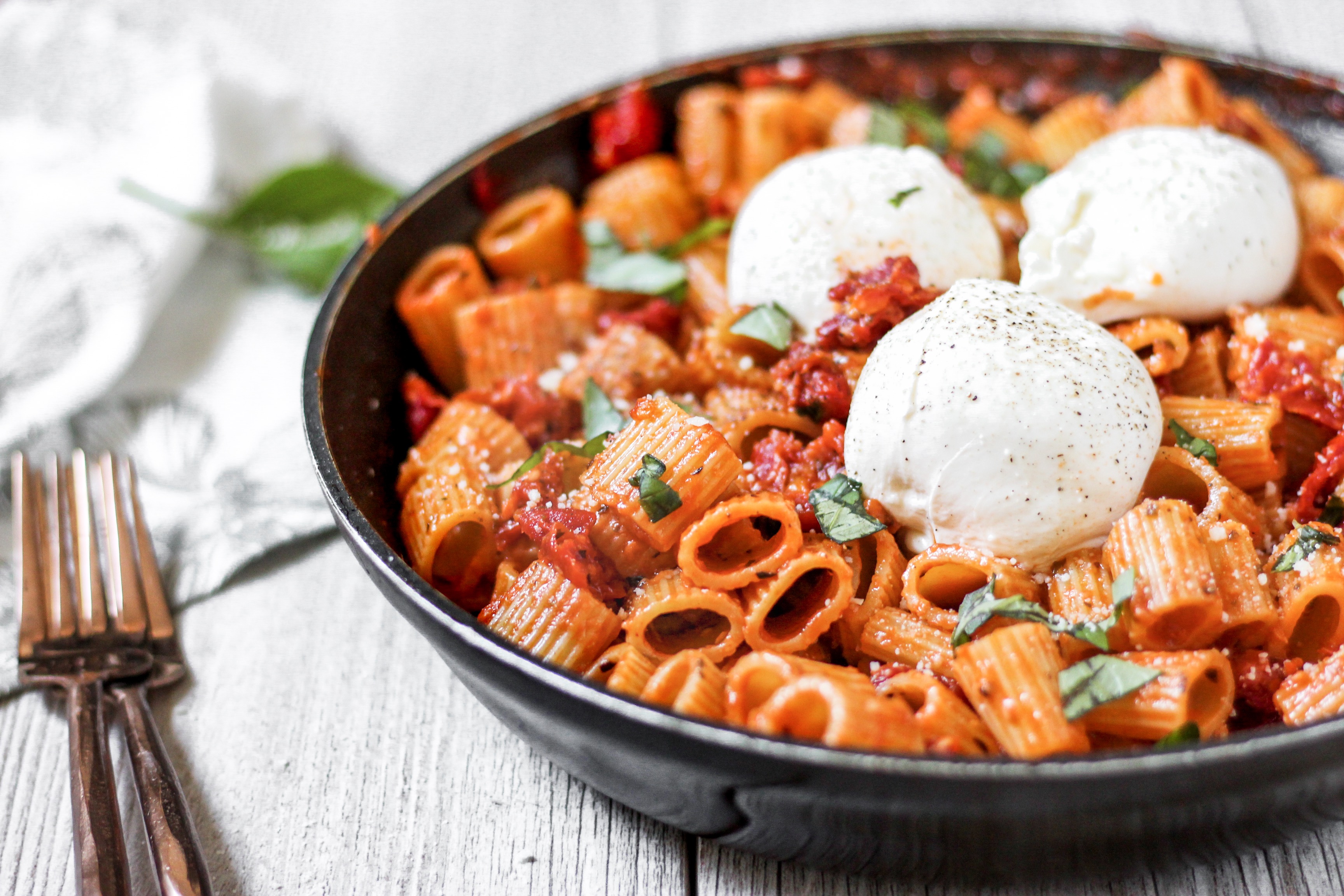 This recipe was adapted from: Half Baked Harvest
Print
Sun-Dried Tomato and Lemon Basil Pasta with Burrata
A delicious pasta sauce made with sun-dried tomatoes, lemon zest, and basil! Top with burrata for a cheesy finish.
Author:
Prep Time:

15 minutes

Cook Time:

20 minutes

Total Time:

35 minutes

Yield:

4-6 servings
3/4 of a 1lb box of mezzi rigatoni pasta
5 cloves garlic, grated
1 8oz jar of sun-dried tomatoes in oil (you will use the oil and the tomatoes!)
1 lemon, zested
1 teaspoon dried oregano
1/2 cup fresh basil, chopped
2 tablespoons tomato paste
1/4 cup grated Parmesan cheese
salt and pepper to taste
3/4 cup of the boiling pasta water
Burrata cheese
Instructions
1. Bring a pot of water to boil and boil the 3/4 of a box of pasta for 12 minutes. While the water is coming to a boil zest the whole lemon, grate the garlic cloves, and chop the basil. Pour the oil from the sun-dried tomato jar into a large sauce pan, then dice the tomatoes. See, all the hard work is out of the way!
2. Heat the sun-dried tomato oil over medium heat and add in the garlic, oregano, lemon zest, and 1/4 cup of the basil. Cook 2-3 minutes, then add in the tomato paste and stir to combine then pour in 3/4 cup of the boiling pasta water. Simmer until the pasta is done cooking. I like to reserve about another 1/2 cup of pasta water on the side in case the sauce gets too thick.
3. When the pasta is done, strain and pour desired amount into the sauce pan. As mentioned above, I found the whole box of pasta is too much and didn't use all of the cooked pasta in my sauce. I always like to add the cooked pasta to the sauce slowly until I've reached the right amount. Nothing worse than too much noodles and not enough sauce! Next, add the Parmesan cheese, sun-dried tomatoes, and the rest of the basil. Season with salt and pepper to taste. Cook another 2-3 minutes. Serve with sliced burrata cheese.
Enjoy!