This raspberry cake has a fun and whimsical twist. There's a secret ingredient that's making this a raspberry flavored cake, and no it's not fresh raspberries. Know what it is?
Raspberry jello.
The cake gets this deep rosy color from a packet of jello! This is a delightful cake recipe that was passed down to my mom by her aunt, and it was something she made for us when we were kids.
I added this cake back into my baking rotation. It's fun, whimsical, and so easy! I can imagine Lilly asking to make the "jello cake"! What kid doesn't get a total kick out of mixing in a packet of jello into the cake mix? The red swirls around as you stir seeing a boring beige vanilla cake turn into this vibrant beauty below? And in case you were wondering, it's just as fun when you're an adult.
The simplicity of combing the cake batter with the pouch of jello mix makes this one of the easiest cake recipes you can add into your recipe box. The index card this recipe is written on is browned and worn, a sign of it's age and how many times it's been referenced during baking. Since this was something a great aunt was making when my mom was a kid, I'd put this somewhere in the 1960's. This wins a prize for being one of the easiest cakes you can throw together! But it certainly doesn't look boring or average, does it?
Make this for a party and you'll have everyone asking for the recipe.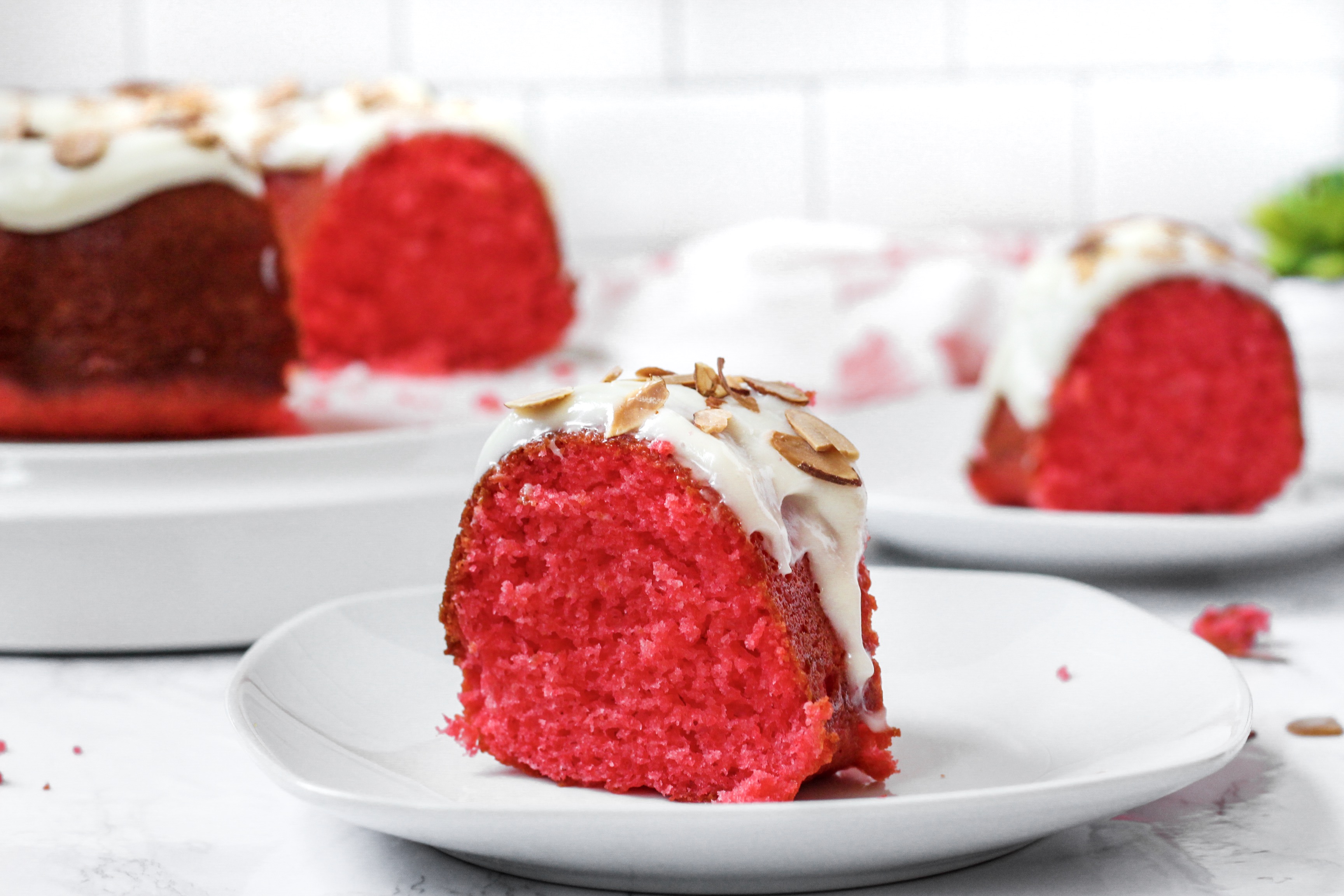 The cake itself is delightfully sweet without being overpowering or unpleasant. The hint of raspberry gives a fresh burst and gives the cake a light and airy flavor.
For my modern spin on this vintage cake, I really wanted to give this a subtle almond flavor in an almond cream cheese frosting and garnish with some toasted shaved almonds to add a bit of a crunch.
You might also like this easy pie recipe!
Cookie Dough Pie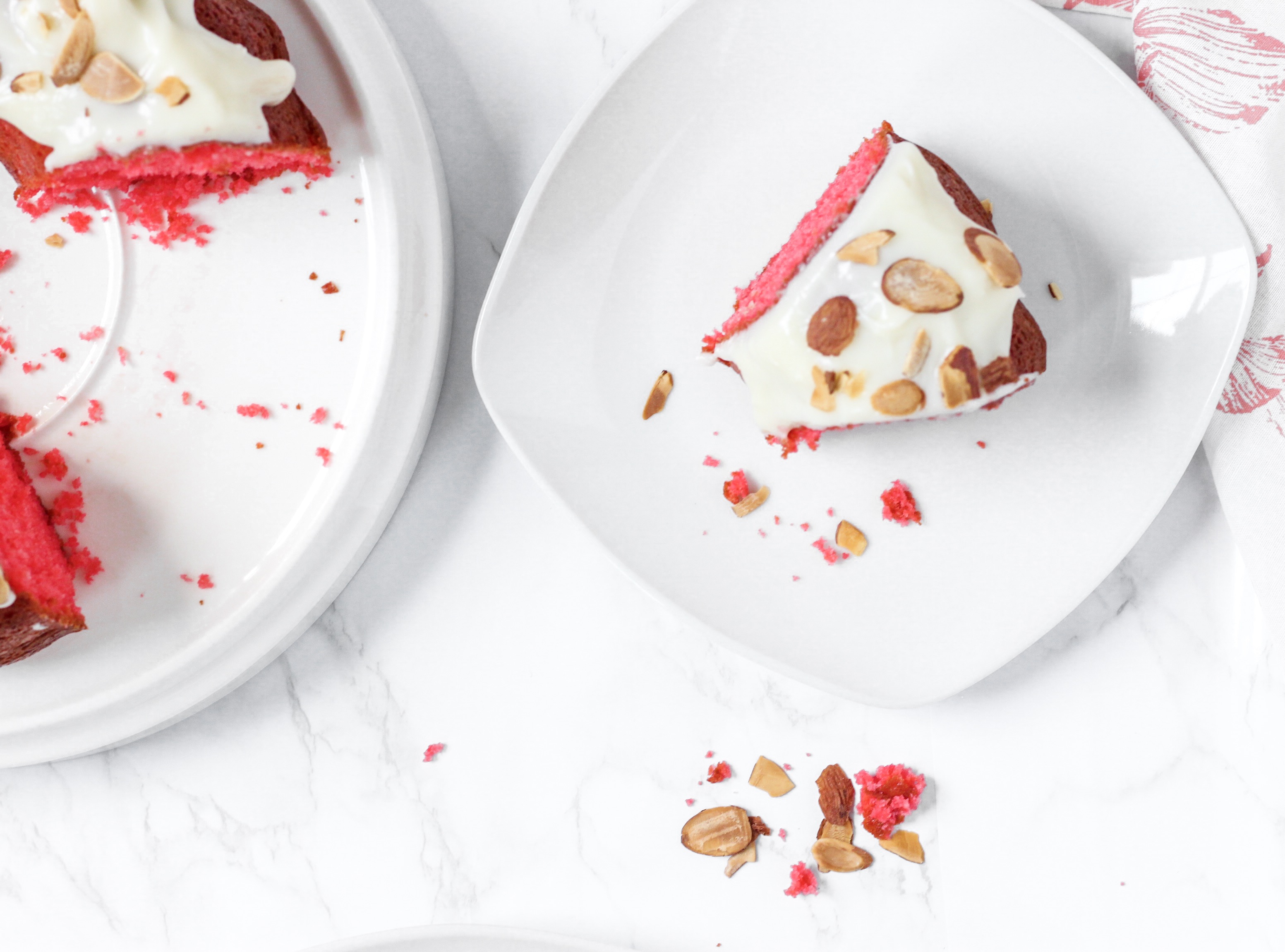 Print
Raspberry Cake
A delightfully vibrant raspberry cake. Flavored with a packet of raspberry jello, you'll enjoy how simple and whimsical this cake is.
For the Cake
1 box vanilla cake mix (don't follow the recipe on the box, follow below)
3oz sized packet of raspberry jello (don't follow the recipe on the box, follow below)
2/3 cup water
2/3 cup vegetable oil
4 eggs
For the Frosting
handful of sliced almonds
3 oz softened cream cheese
1 tablespoon softened butter
1 teaspoon almond extract
3/4 cups powdered sugar
Instructions
1. Preheat your oven to 350 degrees. Line a baking sheet with foil, and pour on a handful of sliced almonds, up to 1/4 cup. You can find sliced almonds in your baking aisle. Then, bake for 8 minutes until brown and toasted.

2. In a mixing bowl, with a handhold mixer or in your stand mixer, blend together the box of cake mix, the packet of jello, eggs, water, and oil. Pour into a greased bundt cake pan and bake for 40 minutes.

3. While the cake is baking, make the frosting. It's very important the cream cheese and butter are softened, blending with them if they aren't will create lumps and bumps and no one wants a lumpy frosting! So blend together the softened cream cheese, softened butter, the almond extract and the powdered sugar. It might look like there won't be enough frosting, but you only need enough to cover the top and have a little spill down the edges.

4. Allow the cake to cool almost all the way before frosting then spread the frosting over top. Having the cake slightly warm is good, it helps the frosting melt a little bit and spill over the edges. I find it easiest to spoon the frosting all around the top in a circle, then using my spoon or frosting spatula to press down on it and smooth it back and forth to help it pour over the edges. Lastly, top with as much of the toasted almonds as you like. They really add a warm crunchy flavor so I like a lot.