Adult mac and cheese lets you enjoy all the easy cheesy goodness of a stovetop mac and cheese without feeling like a little kid!
We all know the boxed stovetop mac and cheese we grew up eating. A childhood treat, but now, we're adults. We're grown ups, right?! In less than 20 minutes you'll boil pasta and make a sharp Cheddar cheese sauce. Combine them together and you've got a cheesy stovetop mac and cheese worthy of sitting at the grown-up table
Recipe at a Glance
Prep time: About 5-7 minutes, enough time to shred the cheese.
Cook time: 17 minutes, that includes the time to boil the water!
Notes: Use sharp or extra sharp Cheddar cheese, it will give it that cheese flavor you want!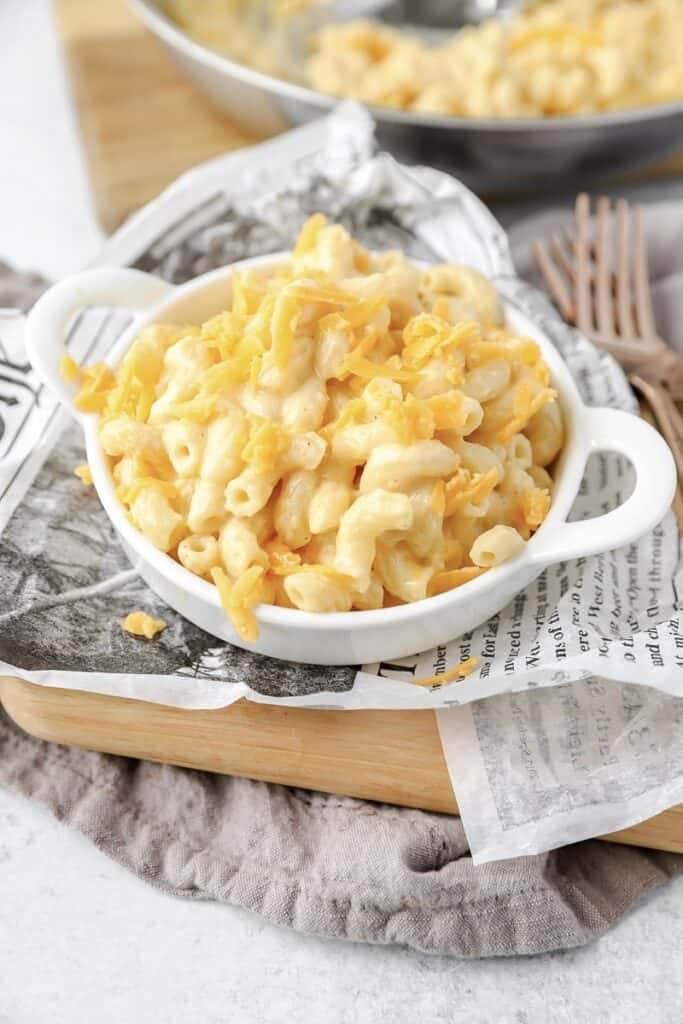 What makes this an adult mac and cheese
Here's what makes this mac and cheese for grown ups…you're going to make a sharp Cheddar cheese sauce.
A velvety sauce with real cheese, no cheese powder like you find in the box. You're going to see how easy, and fast it is to make a Cheddar cheese sauce for mac and cheese! Once you pour the elbow noodles into the boiling water, in the 8 minutes they take to cook you make a cheese sauce that's easy and packed with that sharp Cheddar flavor.
Here's what you need:
Elbow noodles
Butter
Flour
Half & Half or Whole Milk
Sharp or Extra Sharp Cheddar Cheese
Salt, Pepper, Garlic Powder
Pretty easy, right? Nothing pricey, and easy to find ingredients. I usually have everything on hand already, which makes this the perfect recipe to make when you want a hot dinner but you want it easy and fast!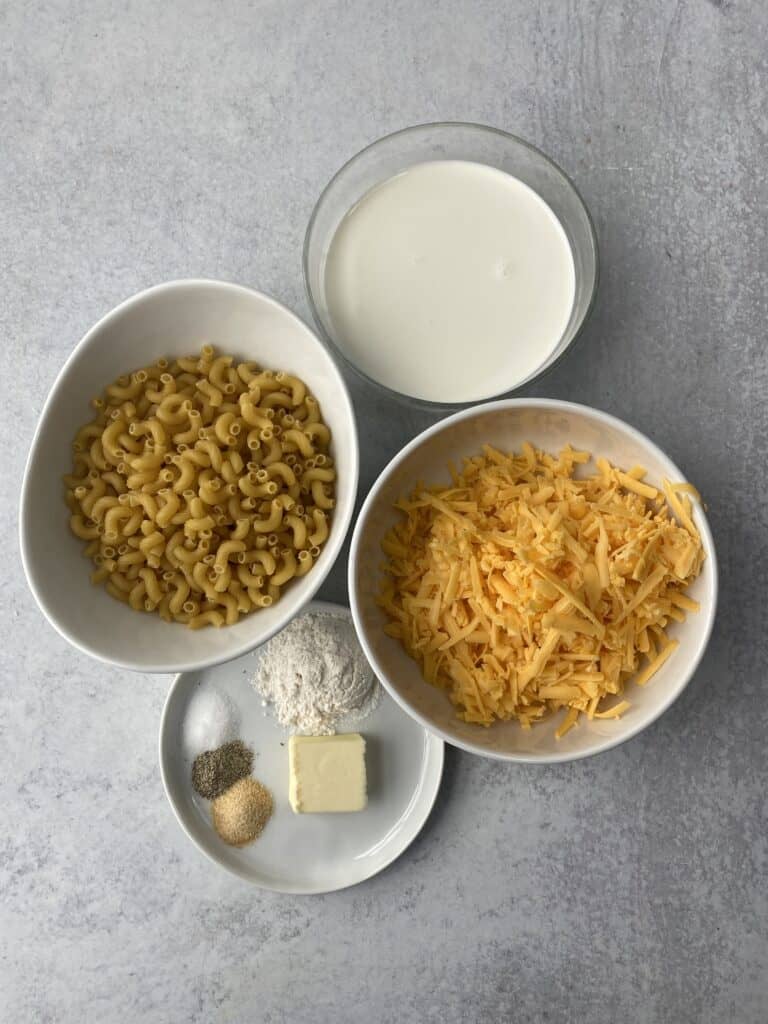 Just look at this easy cheesy sauce! Stovetop mac and cheese means there's no baking required, and the cheese sauce stays nice and creamy. You can serve this as the main dish, or serve as a dish item.
If you're looking for other types of mac and cheese recipes I have a few others you might like!4
Baked macaroni and cheese is a classic baked mac and cheese recipe with a Panko crumb topping seasoned with smoked paprika. Perfect for cookouts!

Beer cheese macaroni and cheese adds extra depth of flavor by infusing the cheese sauce with your favorite beer. Everyone will be asking you for this recipe!
Looking for something with a kick? Try this Cajun Mac and Cheese! Made with spicy andouille, red peppers, and Cajun seasonings.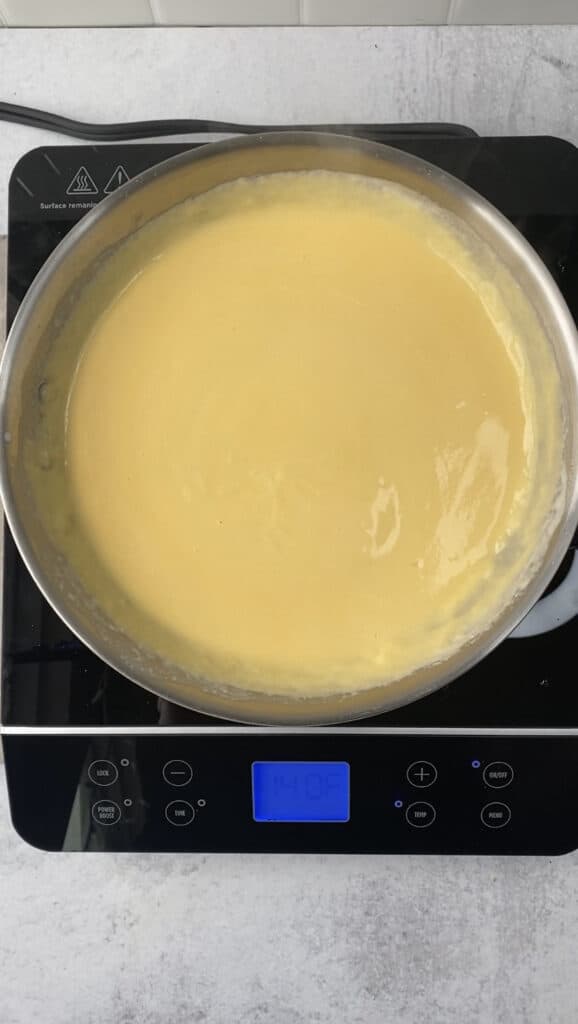 Cooking tips
I recommend using whole milk or half & half. It helps the sauce to thicken to have that fat content.
If the sauce gets too thick as you're waiting for the pasta to finish cooking, add small amounts of the boiling pasta water to the cheese sauce to thin it out. Start small, once you add the water you can't take it out!
I recommend using sharp or extra sharp Cheddar. You want that strong cheese flavor, and in my opinion and cheese that's too mild won't give you that cheese impact!
Add a little extra shredded cheese on top before eating! Or have fun with other toppings like hot sauce or BBQ sauce.
I add a bit of garlic powder to this for extra flavor. If you don't want any garlic flavor to this just leave it out.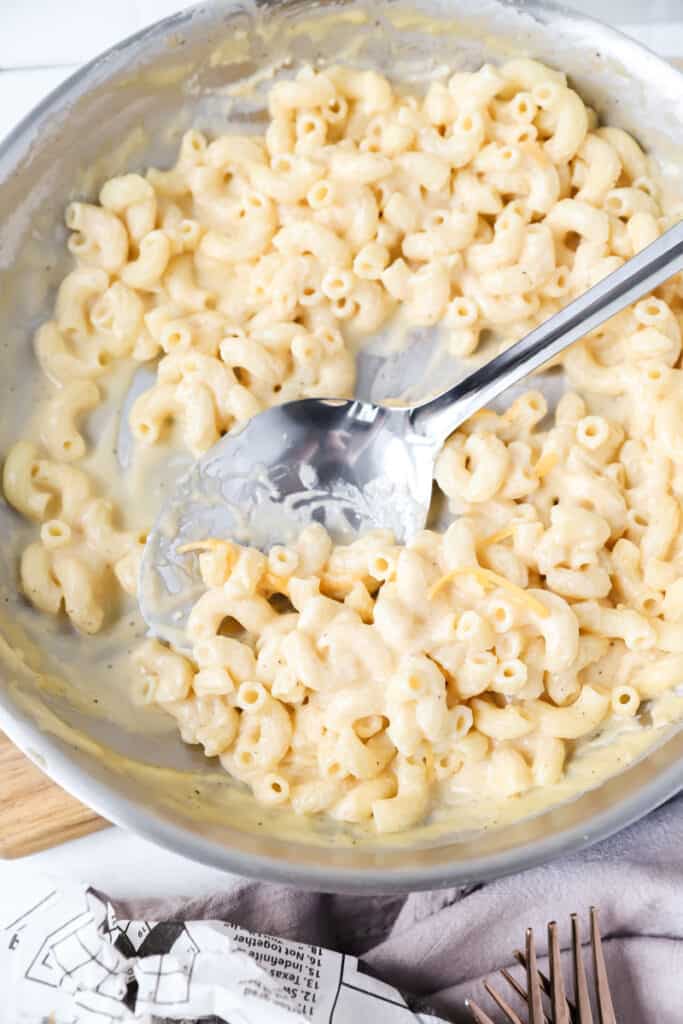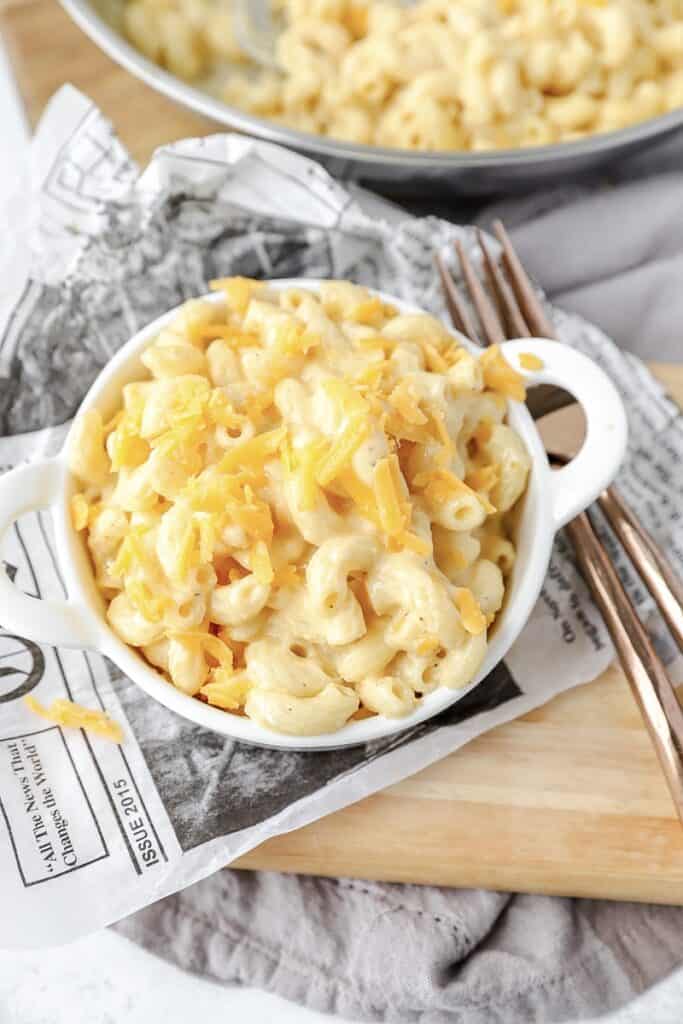 Easy dinners are one of my favorite recipes to create. Those dinners that save you on a busy weeknight! Checkout some of the other favorites from the blog.
First, I have a whole section here for 30 minute meals.
Try these easy pastas like this Baked Penne Vodka, Easy Alfredo Sauce and Creamy Sun-dried Tomato Pasta!
Want pizza but don't want to order delivery? This Roasted Red Pepper Pizza takes like gourmet, right from your oven!
Lastly, my Chicken Parm Meatballs are an easier way to enjoy the comforting flavors of chicken parm in an easy to make meatball!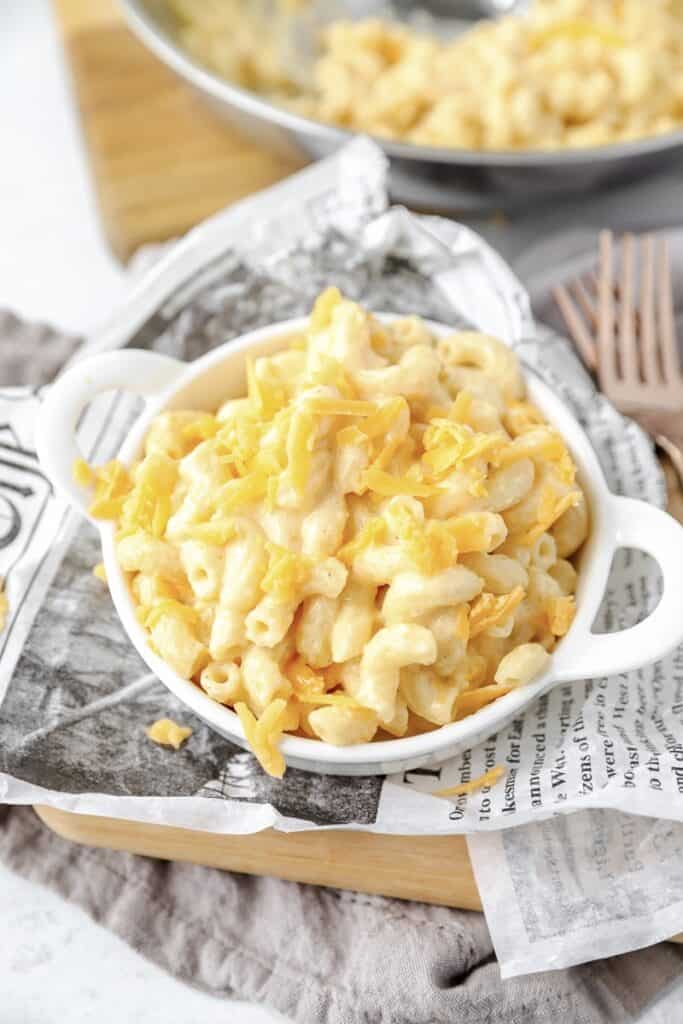 Want more recipes, cooking tips, and behind the scenes of my photography? Follow me on Instagram!
If you make this recipe or any of the recipes from the blog make sure to tag me! I love seeing your delicious creations.
Print
Adult Mac n' Cheese
Adult mac and cheese is an easy macaroni and cheese recipe that is ready in under 20 minutes! In the time it takes to boil the elbow noodles, you'll make a sharp Cheddar cheese sauce. This is the mac and cheese worthy of sitting at the grown-up table!
Author:
Prep Time:

5 min

Cook Time:

17 min

Total Time:

22 minutes

Yield:

4-6 servings

Category:

Macaroni and Cheese

Method:

Saute

Cuisine:

American
1 and 1/2 cups dry elbow noodles
1 tablespoon butter
1 and 1/2 tablespoons flour
1 cup whole milk or half & half
1 and 1/2 cups sharp or extra sharp Cheddar cheese, shredded
1/4 teaspoon salt
1/4 teaspoon pepper
1/4 teaspoon garlic powder
1/4 cup reserved boiling pasta water
Instructions
1. Heat a medium pot of salted water to boil. While the water boils, shred your cheese. Once boiling, pour in the elbow noodles and cook for 8 minutes.
2. While the pasta boils, in a medium pan over medium heat add the butter and melt. Once melted, add the flour and whisk until its absorbed all the butter and you've made a roux, pour in the whole milk or half&half and whisk to blend the roux into half&half or whole milk. Cook for about 1 minute to allow the sauce to thicken slightly. Then, 1/2 cup at a time add the shredded Cheddar and whisk until it's melted and combined. Once it's melted, continuing adding the cheese until you've added the full 1cup and 1/2. Season with the salt, pepper, and garlic powder. If the sauce gets to thick, add some of the reserved pasta water.
3. Once the pasta is done, strain it and add to the cheese sauce. Add 1 cup at a time and stir until you've got your desired consistency! I like doing it this way so you don't add too much pasta and not have enough sauce to cover the noodles.
4. To serve, top with extra shredded cheese or any sauces you like!
Notes
I say this is 4-6 servings depending on whether you're serving this as the main course or as a side dish.
Keywords: Adult mac and cheese