Move over zucchini fries, Greek zucchini tots have arrived. That's right…zucchini is now in a delicious Greek inspired tot.
If you follow me on Instagram @aseasonedgreeting you'll know that I've posted polls in my story where foods face-off to be featured in recipes. I had a "Battle of the Greens" where different green vegetables faced-off and the winners got recipes. So the winners were:
Brussels Sprouts
Spinach
Broccoli
You'll notice zucchini wasn't in that list. Well, that's because it lost it's poll to Broccoli. But, my mommy-exhausted brain for some reason had it in my mind that zucchini was supposed to be featured in a recipe…so here we are. The bonus recipe in the Battle of the Greens.
When I started on the zucchini recipe I actually was intending to make a fritter,. But, along the way fritter just seemed to average. Of course, I love a fritter, but to be a featured recipe it needed to be a bit more adventurous. I found a recipe on Pinterest and I am seriously obsessed with these little guys.
Dip them in some tzatziki sauce (which is super easy to make) and you've got yourself a really great snack or dinner side item. I also ate these with some eggs at breakfast! These make a really big batch so be ready to save the leftovers, which is perfectly fine with me since that means I get a few days of eating these. I'm definitely brainstorming now more vegetable tots, what a great way to eat more veggies…this is great for toddlers too!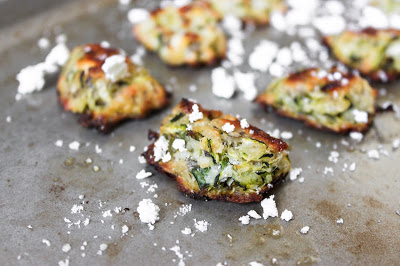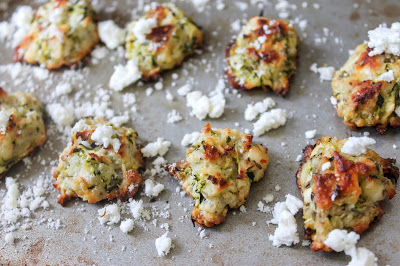 Print
Greek Zucchini Tots
Greek Zucchini Tots are a great way to eat more vegetables without sacrificing savory flavor. Cooked with feta cheese and Parmesan cheese then zipped in homemade tzatziki. These will become a family favorite!
Author:
Prep Time:

15

Cook Time:

30

Total Time:

45 minutes

Category:

Zucchini

Method:

Baking

Cuisine:

Greek
2 medium zucchini
1/4 teaspoon salt
3/4 cup finely sliced scallions, use all of the scallion including the light green and white
2 garlic gloves, grated
1 cup panko breadcrumbs
2 eggs
5 oz feta cheese, crumbled
1/2 cup grated Parmesan cheese
1 tablespoon dried oregano
1/2 cup all purpose flour
For the Dipping Tzatziki Sauce
1/2 cup plain Greek yogurt
1/2 tablespoon lemon juice
1 teaspoon extra virgin olive oil
2 tablespoons grated cucumber
salt and pepper to taste
Instructions
1. Preheat the oven to 350. Spray a large baking sheet with oil spray.
2. With a box grater, grate the zucchini and place into a strainer in the sink, add the salt and let sit for 30 minutes. I find that using a circular motion on the grater with the zucchini was quicker than the typical up/down motion, watch your fingers!
3. While the zucchini sits in the strainer, in a large bowl add the eggs, panko, grated garlic, scallions, feta cheese, Parmesan, flour and oregano. When the zucchini is finished resting in the strainer, grab handfuls at a time and firmly squeeze to remove as much excess water as possible, then place in the bowl. Repeat until all zucchini is in the bowl. Stir everything together until incorporated.
4. This part gets a little tedious, but now it's time to make the tots. Place small spoonfuls onto the baking try and form into tot-shapes. They don't have to be perfect, but you do want to make sure that the mixture is pressed together firmly so it bakes into a solid form. Once you've made all your zucchini tots, bake for 25 minutes. After 25 minutes, flip tots over and bake an additional 5 minutes.
5. While tots are baking, mix all the tzatziki ingredients together. For the cucumber, remove the skin and grate so you have a cucumber paste almost. Add 2 tablespoons into the tzatziki, or as much as you like for the cucumber flavor.
Keywords: greek zucchini tots