No Bake Espresso Cheesecake. With a title like that are you even going to read anything else I write, or shall we just acknowledge you're going to skip straight to the recipe?
How about this. I'll spare you some anecdotes, my knee-slapping comedy, and my edge-of-your-seat life stories and get right to it. This No Bake Espresso Cheesecake is everything, EVERYTHING, you want in a dessert:
1. No baking, you saw that right?
2. Chocolate.
3. Espresso.
4. Oreo crust.
5. Chocolate Ganache Topping.
I mean, come on! The flavor of this is so intense and rich it tastes way more involved than it is. That's something I absolutely love, when something is actually pretty easy but the complex flavor profile will make everyone think this was a tricky thing to pull off. While this is a pretty easy dessert I have one tip: make sure you cream cheese is room temperature before starting this. Seriously, you can't skip this step. If skip you this you're going to wind up with with lots of little clumps of cream cheese that didn't spread into the creamy and smooth consistency you need, and that's going to be a huge disappointment.
I used this recipe from Baker by Nature and made a few adjustments to save time, and money! By using a pre-made Oreo cookie crust it allowed me the half the recipe and save money on making my own crust. If you want the original recipe go visit her site, otherwise keep reading for an easy, wallet-friendly, no bake espresso cheesecake.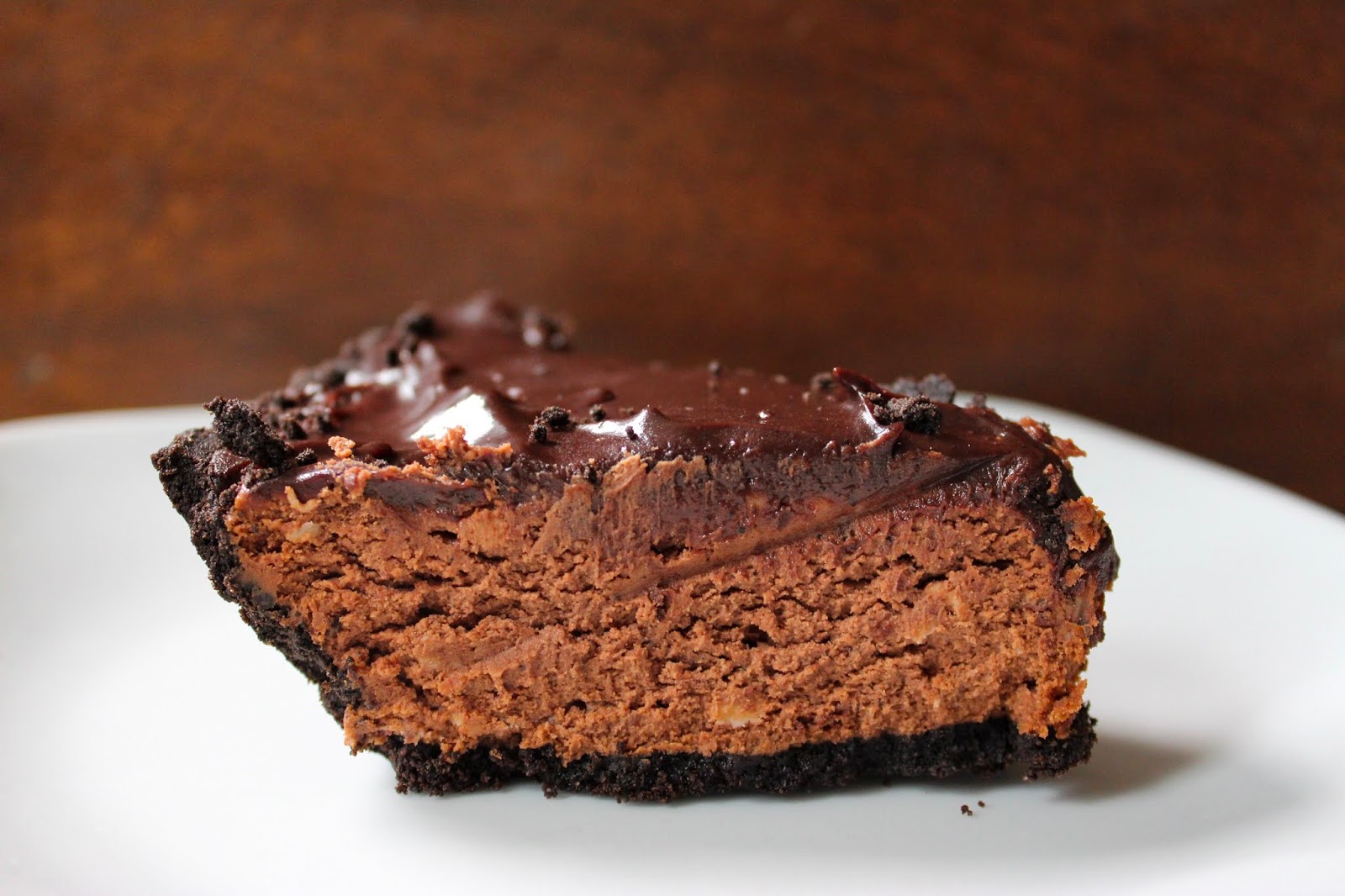 For the Cheesecake
-1 pre-made Oreo cookie crust
-7 oz bittersweet chocolate, chopped
-1 teaspoon espresso powder ( I used Bustelo)
-14 oz cream cheese, room temperature (remember, don't ski letting it get to room temperature!!)
-1/2 cup white sugar
-2 tablespoons dark brown sugar
-1/2 tablespoon cocoa powder
-1 teaspoon vanilla extract
-1/2 cup heavy cream, room temperature

For the Espresso Ganache
-1 cup semisweet chocolate morsels
-1/2 cup + 2 tablespoons heavy cream
-2 tablespoons butter, room temperature
-1/2 teaspoon espresso powder
1. Over a double boiler, melt the bittersweet chocolate, stirring to make sure the melted chocolate doesn't stick to the bottom or burn. Once melted, remove from heat and stir in the espresso powder. Set aside.
2. In your mixer with the paddle attachment, cream the cream cheese until (you guessed it) smooth and creamy. Add in both white and brown sugars, vanilla, and heavy cream, blend to combine. Fold in the melted chocolate. Pour mixture into the Oreo crust and chill at least 6 hours before serving.
3. To make the espresso ganache, place the chocolate morsels into a medium sized bowl. Heat the heavy cream in a sauce pan over medium heat and create a low simmer, remove from heat and pour half of the cream over the chocolate morsels. Whisk to incorporate the chocolate and the cream. Once smooth, stir in the remaining cream. Add in the butter and stir until melted. Stir in the espresso power. Pour over the cheesecake and return to the refrigerator until the cheesecake has been chilled for 6 hours.
Enjoy!